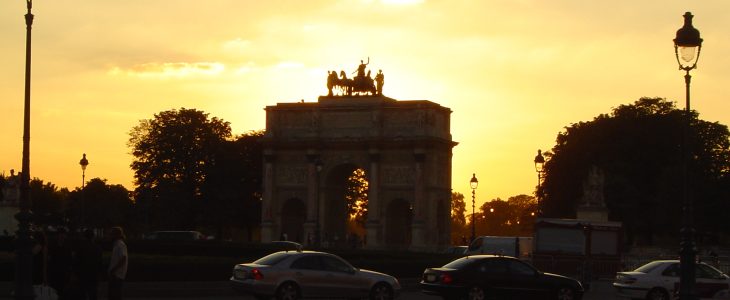 I am back from Paris. Unfortunately, this was my last trip for this year. I really had this feeling of travelling again – just like in India. Only one week after coming back from London, Philip and I went for the next trip. Paris is a really cool city and the title is only related to a really funny coincidence. We did a lot of sightseeing and saw several of the big tourist attractions. Seeing Paris for the first time and meeting so many friends were awesome.
Eiffel Tower and Champs-Élysées
Friday was really tough because we walked through almost all of Paris. Obviously, we started at the Eiffel Tower. It is as impressive as they say! From the Eiffel Tower we walked past the obelisk towards Champs-Élysées including the Arc de Triomphe de l'Étoile. Thanks to the Tour de France, I saw Champs-Élysées many times on TV, but as usual it is much better in reality. Next on our route was the Academie Nationale du Musique. A very beautiful building from the outside. We did not go in, because it was getting late and we still wanted to make our way to the Louvre. We heard that Friday evening was free entrance for students. A chance we did not want to miss.
Meeting Rafael
In the evening at the Louvre we were supposed to meet Rafael, my Brazilian friend. Instead of him we met Lou, a girl which Philip and I already met in London the week before. What a small world (or city). Together we visited an Australian pub which was much fun. The next day became even funnier as we tried again to meet up with Rafael. After many accidents, we finally made it and were complete. We spent the day at a lake outside of the center which was relaxing. Saturday evening, we went to the Eiffel Tower to see the light show at night. Brilliant! We had a very good time sitting in the grass and enjoying the blinking lights.
Musée d'Orsay and Centre Pompidou
Sunday and Monday, we used again to do some sightseeing. First, we went to the Musée d'Orsay. I had not heard of the museum before. However, alone the idea of turning an old train station into a fancy museum sounded fascinating. And indeed, the Musée d'Orsay is definitely worth a visit. You should not miss it! From there we walked to the cathedral Notre-Dame. After the typical tourist picture taking session, we moved on to Centre Pompidou. The modern art museum was interesting, although I have to admit, that I could not really see the art in some of the exhibition pieces.
Looking Forward
Thanks again to the two girls, Elli and Séverine, who let us stay in there flat. I hope the flat is still ok and we did not destroy anything ;). Now, it is time to prepare myself for Sheffield. So far, I have no flat and nowhere to stay for the first days. I guess, I will have to manage directly after I land there. I will keep you posted.