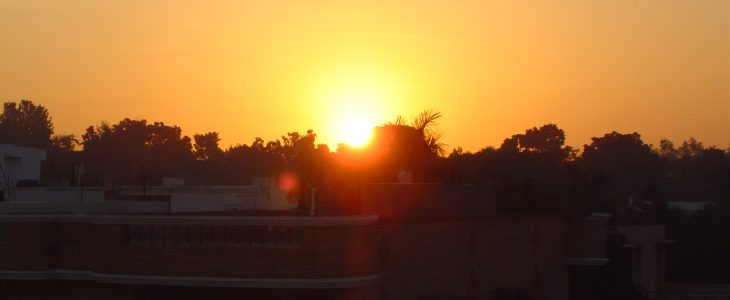 First of all, I would like to tell you that I am well. After quite a long journey I made it to Chandigarh in one piece! I arrived at Delhi airport around midnight and was picked up by an AIESECER named Anuj, who also helped me to collect my train ticket later. Before that we waited 10 hours at the airport, because the hall there had air-condition. Then we took the bus to Delhi. The traffic there surpassed everything I knew so far! The word CHAOS was born here! However, I have not seen a single cow directly in Delhi. When we arrived at the station, I understood why Anuj really wanted to wait at the airport. The train station was extremely crowded. Shortly after the train from Delhi to Chandigarh started, I saw the first slums. For somebody that has never left Europe before, this was both interesting and sad. In Chandigarh I was also picked up from the station, so everything went well.
My new Home in Chandigarh
I live in a small apartment with three Asian girls. One is not actually Asian, because she comes from Brazil, but has Japanese ancestors. The other is from Japan and the last one from Singapore. In addition, there is a Dutchman, who will fly back next week. At first glance, the apartment was a shock, but I think I will get used to it. At least we have running water and a shower (but the water pressure is hardly noticeable).
My new Contact Details
Today I bought an Airtel SIM card and you can call me under the following number +91 9815148615. I am looking forward to any calls, but please remember that we are 3.5h ahead in the summer and 4.5h in the winter. That is all for now. I promise to get back to you soon! My new address here in Chandigarh is: