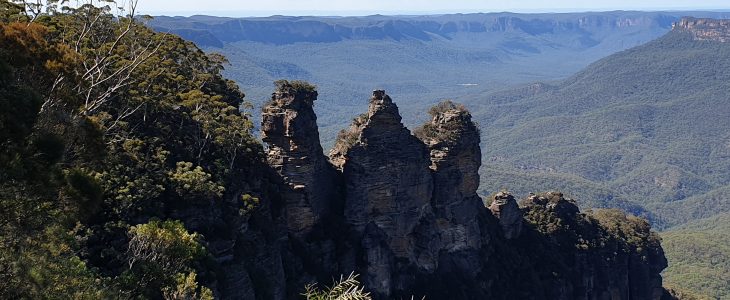 The last two weeks in and around Sydney have been very exciting. We saw much more of this beautiful city. Amongst it were Taronga Zoo, Sealife Aquarium, Madame Tussaud's, several interesting markets and the Australian Museum. One Sunday we followed the coastal walk from Bondi beach to Coogee beach. This coastal walk was very beautiful. We also carried on with our café assessment and definitely have our favorites now. Last weekend we went to the Blue Mountains National Park, which is about 1.5 h from Sydney by car. The landscape is very different from Sydney and the climate a bit cooler. It was a good change although the hotel we stayed was the worst so far.
A Day at Taronga Zoo
One day after the last post, the kids and I went to Sydney's largest zoo. The Taronga Zoo in the north of Sydney is easy to reach by public transport and very well maintained. There are several nice playgrounds. Although we saw giant turtles and a great seal show, the kids loved the Sumatra tigers the most. We were lucky they did not hide, when we reached their place. The only disappointment in the zoo was the food. The selection for lunch was very poor and the quality even worse. However, this did not keep us from exploring the zoo's many attractions. I promised Leandro ice-cream as soon as his brother would be asleep. Surprisingly, Diego was so fascinated he just would not take his nap. Only when we went on our one-hour return bus trip, both kids would fall asleep almost instantaneously.
Bondi to Coogee Coastal Walk
The following Sunday we went to the world famous Bondi beach in central Sydney, which is well known to surfers around the world. The waves and the current are strong at this beach. We knew about that and followed the utterly beautiful coastal walk from Bondi beach southwards to Coogee beach. The weather that day was somehow mixed. From slight rain to heavy sunshine – we had it all. The coastal walk offers many nice picnic places. We stopped at Tamarama beach and had lunch just next to a little playground. From Tamarama we continued going up and down along the coast via Bronte beach and Clovelly beach to our final destination Coogee beach. In many places we saw tidal pools. It was great fun watching people getting thrown into the pools by the strong ocean waves. This coastal walk was definitely one of our highlights in Sydney.
A Visit to Local Markets
One day earlier it was rainy. Hence, we decided to visit some indoor markets. Very near to our place is an interesting local farmer's market. The farmer's market at Carriageworks takes place only Saturdays. We had good food and mediocre coffee there. I also spotted something, I had never seen before. Coming from Germany one would think, I have seen all types of sausages already. However, I had not seen a fish sausage before the Carriageworks farmer's market. I cannot tell, whether it tastes better than it sounds, because I just could not try it. In the afternoon we carried on to Paddy's market near Chinatown. This underground market is colorful and appears to be filled with pirate stuff. It looked very similar to street markets in Thailand and India.
Café Assessments and Babyccino
We continued our café assessment and found some good ones in our neighborhood. Hollis Park Café, Campos Café and Urban Bites are my favorites. Nevertheless, Carolina is still not convinced by coffee in Australia. The taste is different from what we experienced in South America, Europe or Asia. The kids on the other hand absolutely fell for Babyccino. I like the fact that everybody knows what it is and almost every café offers it. In Germany, it is often difficult to explain to waiters that kids want to participate, too. Getting just a cup of steamed milk mostly seems to be a huge effort. A few times on the way to a playground Diego literally dragged me into a café and demanded me to get a cappuccino to take away for me.
Do not miss Sealife Aquarium
We also went to Madame Tussaud's in Sydney. It is quite small and not very exciting. I would not visit it again. Sadly for Leandro, Spiderman was not there. When he asked one guy, he got told: "Oh, Spiderman is in hospital at the moment". The Sealife aquarium some days later was the exact opposite. All of us were fascinated by the beautifully arranged aquarium. We saw different rays, sharks, giant lobsters, huge turtles, penguins and many other marine animals. When in Sydney, the Sealife aquarium should not be missed! The same applies to Sydney harbor which is worth a visit every couple of days. We have already seen three of the largest cruise ships in the world. I still do not see myself going on such a cruise ship, but being so close they are very impressive.
Meeting my former Colleagues
The other day I met two former colleagues here in Sydney for lunch. One of them I had never met in person. It is funny that only after I left my job, I finally met the colleagues I had talked to on the phone so often. Catching up was very nice. After lunch I met Carolina and the kids in the Australian Museum, where we gazed at the different dinosaurs. The huge model of a T-Rex was both, impressive and scary at the same time. I also learnt a lot about Marsupials. I knew, that most marsupial animals are found in Australia, but I was not aware of so many marsupial species. This journey is definitely a very good learning experience for all of us.
Weekend Trip to the Blue Mountains
This weekend we drove to Katoomba in the Blue Mountains National Park. The Blue Mountains are about 1.5 hour drive from Sydney. We rented a car, because I wanted to get used to driving on the other side of the road again, before going on our motorhome adventure. I think ever since living in India, I had not driven on the left side anymore. Except for the turn signal it was no big deal. However, the turn signal was somehow complicated to get used to. I have lost count how many times I accidently switched on the windshield wiper during our trip. We spent one night in a motel very close to the most popular Three Sisters viewing point. I strongly recommend not to stay in the Echo Point motel. It was by far the worst hotel on our trip so far.
Mesmerizing Landscape at Scenic World
Apart from the motel our trip was great. Saturday upon arrival Saturday we went to Scenic World. First, we crossed a gorge within a cable car to get closer to the famous Three Sisters. We only went to the first lookout, before we made our way back though the forest and via the Katoomba falls to the Scenic World entrance. From there we went downwards with the world's steepest train. Initially, it did not feel very steep, but soon after the train got going that changed completely. We had to hold on firmly to not fall down. In the valley the landscape was mesmerizing. I like walking through such a jungle landscape. We wandered for about an hour and even Diego walked the whole time on his own. We returned with another cable car and all of us had much fun at Scenic World.
Clean-Up Australia Day
In the morning of the second day in the Blue Mountains we walked down the street to the large Three Sisters viewing point. It was "Clean-Up Australia Day" and therefore one part of the viewing point was closed down for clean-up. Nevertheless, the view was awesome. The weather was perfect and due to the LBGT Mardi Gras parade in Sydney the night before, not too many tourists were there. As the night in the shabby motel was very bad, we did not feel like doing a lot that day. Instead we drove to the close by Wentworth Falls. We had a light lunch in the picnic area. From there we hiked down slowly. We passed several pretty lookouts and took many pictures. It was not an easy way down, but again Diego insisted on walking instead of getting carried – what a relief.
Paramedic Emergency at Wentworth Falls
After an hour we reached the waterfall. The Wentworth Falls are high, but there is not much water. Hence, it is not impressive because of the water crushing down, but because of its beautiful surroundings and views. For us, it was good, that the water was smooth, because thanks to that the kids could play in the water. They were also interested in the many paramedics and firefighters. They rescued a woman with a broken leg. She did not look very well, but there were about 12 to 15 people taking care of her and carrying her the way back. Fortunately, Australia has a good infrastructure and the woman got help very soon. We stayed a little longer and enjoyed the water before we came back to the top. The return drive to Sydney was once again very smooth and I hope I am prepared for our upcoming motorhome adventure.