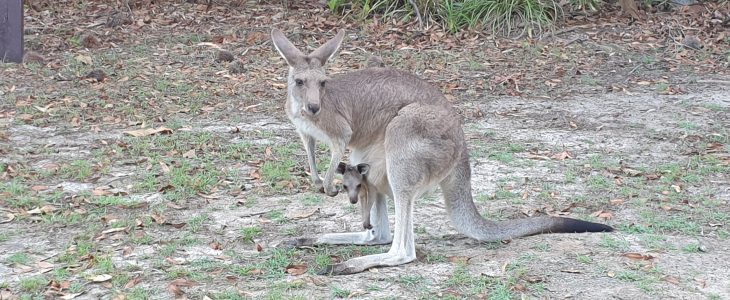 Our marvelous stay in Australia has come to an end. We had an extraordinary time in and around Sydney and all of us are sad to leave this gorgeous country. The last two weeks we went on a road trip in a motorhome. It was our first ever motorhome experience. We explored the coast north of Sydney without driving too much. Nelson Bay, Coffs Harbour and Tuncurry were the places we went to before heading back to Sydney. As we had seen some mountains and done some hiking in the Blue Mountains before, we decided to visit a few more beautiful Australian beaches. It turned out to be a wise decision for a relaxing closure of the chapter Australia.
Our last Days in Sydney
During the last days in Sydney we, obviously, tried to make the most of our time. Carolina had the unique opportunity to visit an opera in the famous Sydney Opera House. From what she told me, it was a superb experience. Frankly, I was a bit jealous. On the other hand, I visited the beautiful The Rocks food market with the kids one Friday before we left. The Rocks food market opens only Fridays and weekends. On the way there we passed by Sydney Harbour and once again we saw a giant cruise ship. We have seen three of them when staying in Sydney and they were all very impressive due to their sheer size. Diego and I also continued our Cappuccino & Babyccino tasting in and around Newtown.
Remembering my Student Time
Leandro's Australian child care experience has finished, too. The Laurel Tree House was very nice and I think he enjoyed it. He definitely picked up some English. As a parent I liked one thing in particular. Every time Leandro went there, one of the teachers published a little story in an application called "Storypark". They added pictures and wrote about what he did that day. It gave us a good impression of what his day at the child care looked like. I would definitely like to see something similar back home. The way to Leandro's child care always led us through Sydney University. It is a beautiful campus! The buildings are from the 1850s to 1870s and the spirit on the campus is simply amazing. It made me remember my time as a student every time and more than once I felt a yearning to be a student again.
Starting our Road Trip
Saturday two weeks ago, we locked our Sydney apartment one last time and all of us had a little tear in the eye. Leandro spoke out, what everybody was thinking that moment: "I will definitely miss this place!". He also looked forward immediately: "Next time, we can stay here again.". We went to the motorhome pick-up place, where the pick-up process took much longer than expected. I had to register with the Australian toll system and somehow there were technical issues. After these issues were resolved and we received the required introduction for our motorhome, we were finally on the road. It was the first time I drove such a huge car. It took me a while getting used to its length and width. Fortunately, driving on the other side was no issue anymore, because of our practice run to the Blue Mountains the weekend before.
Shops close in the Afternoon already
Our first destination was Nelson Bay, which is around 2.5h north of Sydney. We stayed at Middle Rocks Holiday Resort near One Mile beach. Due to the delayed pick-up process we arrived quite late at Middle Rocks. Coincidently, I had read that shops in this area close at 5pm. Initially, I could not believe that, but I did not want to risk anything. We still had to stock up on food, because we hardly had any with us. At 4.45pm we reached a local mall and most shops were indeed closed – at 4.45pm! Welcome to the hinterland. Fortunately, ALDI was still open and we were able to buy groceries for the next days. Middle Rocks is a nice campsite with some activities for the kids, too. Saturday, when we arrived, it was fairly busy, because many people came for the weekend.
Getting used to Camper Life
We stayed three nights at Middle Rocks and Sunday afternoon it became almost empty. It felt like we were the only ones on the entire campsite. To reach the nearby One Mile beach we had to cross a little bush and walk through a huge dune. With the kids it was a good ten minutes' walk. One Mile beach was nice, but fell a bit short in comparison with the beaches we had seen in Sydney and the beaches we saw further north. Three nights was exactly the right duration for us to get used to camper life in general and getting to know our motorhome in particular. It took us some time to decide on the next steps. The question was how far north we wanted to go and how long we wanted to drive. We decided not to drive too much and therefore stay a little longer in one place.
Finding the right Balance
The one place where we ended up a little longer was the Emerald Beach Holiday Resort near Coffs Harbour. Coffs Harbour is about 4.5h north of Nelson Bay and about 600km north of Sydney. Pressure was high on the Emerald beach, because we wanted to stay six nights. After all, we could not have chosen any better. For us, the Emerald Beach Holiday Resort with its very close Emerald beach were the perfect place to stay a little longer. There were many nice people and several families with young children. The beach was gorgeous – even to Carolina's Brazilian standards, haha. There were two pools and one of them for small children. Whereas we adults loved the beach, the kids loved the pools. Thus, we had to find the right balance.
Emerald's amazing Wild Life
Another thing which made our stay at Emerald beach so amazing was the wild life. We had turkeys walking around the campsite the whole time. Turkeys itself are not that impressive. Instead, they became a little annoying after some time, because they were not shy at all. Spectacular were the kangaroos that passed by the campsite often. When the kangaroo mamas carried the babies around and they actually put their head outside we could not stop staring at them. It was just so cute. There were many kangaroos in that area and we saw hundreds of them when we walked along the coast. We also saw and especially heard kookaburras. I had heard of them, but never seen them in real life before.
Water in the Motorhome
So, gorgeous beach and cute wild life – what more can you ask for? A watertight motorhome for example. The last night at the Emerald beach there was a heavy thunderstorm and at some point the roof was leaking and water dropped down. Not a nice experience! However, it stopped in the middle of the night and in the morning we were good to go. Additionally, we got some reimbursement from the rental company. After Emerald beach we had to move closer to Sydney again for our next stop. It was a bit hard to decide where to stay, because many places looked promising. We decided to stop at Tuncurry-Forster, which is roughly half way between Coffs Harbour and Sydney. We reached Reflections Holiday Park Tuncurry in the early afternoon and weirdly felt like in a retirement home. We were the only guests under 65 at this place.
Dolphins playing around
The receptionist recommended not to go to the beach, but to a rock pool at the river mouth. "That's where most people go". We followed that recommendation, but were disappointed. The next day we went to the real beach and saw once again, how important it is to know about the tides – just like in Thailand. When the tide was low, the beach was awesome for both, kids and adults. Some meters into the sea was a sandbank, creating a flat natural pool for the kids. It was a joy to watch them play together in that "pool". The last day it got even better when we saw dolphins playing around. They were only 50 meters away from us and it was moving. The Nine Mile beach is another amazing Australian beach and for us it was the last we visited.
Looking forward
Right now we are back in Sydney. All bags are packed and tomorrow we are off to Auckland, New Zealand. Australia impressed us deeply. It is weird – we only left Thailand six weeks ago, but it feels like several months. A lot happened during the last six weeks – far too much to put it in a few articles. It is difficult to mention highlights, because all of us would mention different things. Important is, we managed to overcome all challenges, we are all well and we are looking forward to our next adventures. The coming weeks are a bit more fast-paced, because we will change countries every two to three weeks. More of that in our next post.