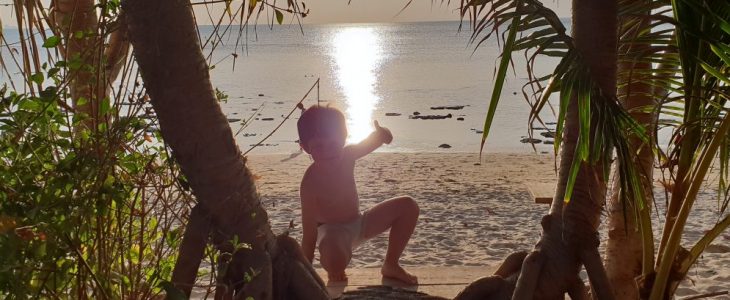 We just left Khao Lak – the beach town that got hit so hard by the tsunami in 2004. I remember that day exactly. I was in Goa, India, and there were breaking news everywhere. Today there are hardly any signs of the catastrophe 15 years ago. Khao Lak is a beach town absolutely dominated by European tourists. It is crazy, that more people here speak German, than in some of Germany's neighboring countries. We stay at Bangniang beach, which is not a spectacular beach. Maybe we just got used too much to the lonely beaches on Koh Lanta. After our last post from Koh Lanta we still spent two exciting days on that lovely island. Every day we loved Koh Lanta a little more. Hence, in the end we were sad having to move on.
Family Atmosphere at Klong Khong Beach
As mentioned last time, we learned about the tides at the Klong Khong beach and from there on all of us loved this beach. Koh Lanta is a laid back and very cheap island. The owners of our small family resort were extremely caring and did everything for us to feel well. After a few days, our meals were prepared in completely individual ways, depending on our different tastes. When the kids were playing at the beach, we spoiled ourselves with partially painful Thai massages. We enjoyed the massages in the family resort directly at the beach. It was wonderful! The owners also gave us some indication on what tours we could do with the little ones. We decided for a half day boat tour, which also included some kayaking. It turned out to be a superb adventure.
The walking Fish
For our boat trip we left early in the morning and went to a pier in the north of Koh Lanta. After a short ride in the back of a pick-up, we reached the place. We had to put on life vests and fortunately they had small sizes, too. Leandro and Diego got life vests that suited them well. Both looked very cute in their little life vests. With an old long-tail boat we started into the mangroves along with several groups around the same time. When we reached open water, the tide was very low and we saw many small fishes trying to get from the mud back into the water. From a distance they looked like lizards. Only when we got very close we actually believed our guide. I have never seen fish like that – it looked like they were almost walking.
Crazy Guide on Ghost Island
Our two guides were young and really crazy. From time to time they wanted to show off, which not always was a good idea. As the tide was very low our boat got stuck in the mud and it took the guides about 15 minutes to get going again. When we did, we went to Koh Phee – the Ghost Island. I did not get why it is called Ghost Island, but the island would definitely be a good spot for a pirate movie. What about "Pirates of the Andaman Sea" for a change? There is a cave on Koh Phee, which can only be reached by extremely steep ladder made of old tires. The "ladder" was very difficult to climb up. Before we realized it, our crazy guide took Leandro on his back and climbed up. My heart almost stopped that moment!
Family Kayaking
Carolina followed the guide to make sure he did not do more crazy things with Leandro. I stayed back with Diego, which really made him angry. He even tried to climb up the tires himself. The more boats arrived on Koh Phee the more people were scared of the tire ladder. The funny thing about staying back was, that I could see the facial expression of the people when they realized, they had to climb up that ladder. From Ghost Island we went on to another small island, where we changed into kayaks. By kayak we went to a small and deserted beach and another mysterious cave. The kids loved the kayak ride and did not want to change back into the long-tail boat. I, on the other hand, was happy that my exercise was over.
The swimming Monkeys
On the way back Diego fell asleep, which looked very funny, because his head was kept in its place by the life vest. What he missed was us feeding monkeys, in the mangroves. As usual the monkeys were already used to the tourists and expected us. They jumped on the boat and one monkey even jumped on my head. He was comfortable there and did not want to leave. However, the guides scared the monkeys away after our food was gone. The monkeys jumped into the water. That was the first time, I saw monkeys swimming in the water. I was not aware, that monkeys can swim. The trip took longer than expected and two hungry kids can be a challenge.
1km to the Beach is far
Six days we spent on Koh Lanta. It was a good destination after Bangkok. From Koh Lanta we went to Khao Lak. It was a relaxed 4h car ride. We found our booked hotel with the help of some locals. The owner was not friendly at all. Such a change to what we have experienced so far in Thailand. The room was extremely basic. When I booked the hotel I read, that the hotel is 1km from the beach. I did not think how far that would be for the kids. When we finally reached the beach we thought about options, because we did not want to do such a long walk in the sun every day. A little down the beach, we found a stunning resort. They had some special offer for us and we decided to switch hotels the next day.
Staying in a stunning Beach Resort
Moving to another place turned out to be a great decision for several reasons. Our first hotel was directly at the street just opposite a bar, which was open until 5am. The music was so loud the entire night, that none of us really slept. This all changed when we moved into our luxurious beach resort. The resort was stunning and it was a pity, we did not book it from the beginning on. Well, most likely we would not have benefited from the incredibly good deal they gave us. We had a room with a Jacuzzi and direct pool access. There was a kid's pool and a supervised kid's playroom. Thus, we got some quiet time, too. In the evening we visited the Bangniang midnight market. It is a pretty market, but purely for tourists.
Khao Lak too artificial for us
Khao Lak, particularly the Bangniang beach, I cannot recommend. There are definitely many places in the world and also in Thailand, which are more beautiful. The village depends totally on tourism and is actually flooded with tourists. Most of the tourists are from Western Europe. It is crazy to see so many signs in German and many shop owners actually speaking German. The majority of the restaurants offer western food and even the Thai food is somehow adjusted to tourist taste. For me Khao Lak (Bangniang beach) was very artificial and did not give us an impression of Thailand. For us, Koh Lanta was definitely more beautiful. The next stop is Khao Sok, which is in the middle of the jungle. That should be more of an adventure. I am really looking forward to it.