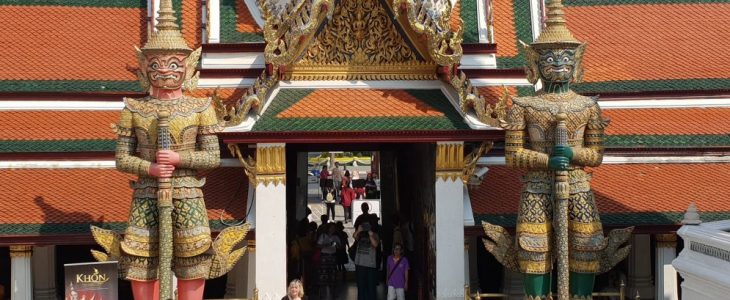 We finally started our Family World Trip. At this moment we are sitting at a beach bar on Koh Lanta in Thailand enjoying cocktails while watching the sunset. The kids are chasing a cat and playing in the sand. Life here is much more laid back and relaxed than in Bangkok, our first stop. Nevertheless, even though Bangkok is much more hectic and much polluted we liked our first stop over there. Although we were still jetlagged, we did some sightseeing in Bangkok. Travelling with kids comes with its own challenges. We are still adapting to this life. Different food, different language, different people, and different places, less space and life out of a backpack – it is a lot to cope with in the beginning.  
Kidzania – a World for Kids
Last week we flew from Munich to Bangkok, Thailand. Bangkok was the first stop on our family world trip. The flight was stressful because Diego did not want to sleep at all. When he finally fell asleep, Leandro woke up. Totally knackered we arrived in Bangkok early in the morning. Unfortunately, our Airbnb was not ready till afternoon. Therefore we had to find some entertainment for the kids in the meantime. We ended up in a place called Kidzania in Siam Paragon. Kidzania is a little city where kids can earn and spent money just like in real life. Our kids worked in a police station, a hospital, a fire department and a construction site.  Only kids are allowed inside the little buildings. Parents have to wait outside. Despite the language barrier the kids did surprisingly well and really liked that place.
Exploring Bangkok by Public Transport
The Airbnb we used in Bangkok was a small, but tidy flat that had everything we needed for the first days. It was centrally located, not too far from the metro. The first days, we still had to adjust to the time difference. The second day in Bangkok we all slept almost until lunchtime. In the afternoon we slowly started to explore Bangkok. I was eager to use the public transport system. I read about Lumphini Park which was only a few metro stations away and had some nice playgrounds for kids. It was a very relaxed afternoon and the kids liked to play with many other kids from different countries. Thankfully, Carolina bought a very flexible child carrier just before we left. It helps us a lot with Diego. Especially in a crowded city like Bangkok, it was good to keep him close.
By Rickshaw and Ferry to Wat Pho
Saturday we went sightseeing. I think it was stressful for the kids, but they did very well. Bangkok is humid, hot and much polluted. Many people in the streets wear masks, which one can buy everywhere. On our way to the Grand Palace and Wat Pho, two of Thailand's most visited sights, we used a rickshaw and a ferry. That was great fun for everyone! From the ferry station it was a short walk to Wat Pho. There we saw the giant declining Buddha. It was amazing to see this huge statue and it reminded me of all the signs I had seen since we came from the airport:
"Buddha is not for decoration, Respect is common sense!"
It is an offense to Thai people to have a Buddha as tattoo or decoration in the flat. We have not been aware of this before, but understand it totally.
Fascinating Wall Paintings at the Grand Palace
From Wat Pho we walked along the walls of the Grand Palace to its main entry on the other side. Leandro was eager to get into the palace. Even though he definitely had something else in mind, when we said 'palace', he liked the place. The Grand Palace is very beautiful. It is a huge complex with many different areas. We explored only one area with the library and some huge guardian statues. It took some time, because the wall paintings are amazing. They tell about ancient Buddhist stories. As we did not know them by heart, we invented some stories for the kids. Leandro was very interested and also Diego was somehow fascinated by the wall paintings. After visiting Wat Pho and the Grand Palace all of us were tired and we took the ferry and the sky train back to our Airbnb.
Like a Local to the Kwan-Riam Floating Market
Sunday we wanted to visit a floating market. Initially we thought they are somewhere in Bangkok, but soon we realized, that they are all outside of Bangkok. We found Kwan-Riam Floating Market, which was not too far away from the place we stayed. Public transport was no option and hence it was time to test 'Grab'. In parts it is like a Thai-version of Uber. I like this App, because it puts an end to extensive price negotiations with taxi or rickshaw drivers and has a fair pricing system. We got there and back for very little money compared to what we paid before. We reached Kwan-Riam Floating Market just before lunchtime. At that time the floating part had already finished. Nevertheless there was still a lot to experience. The kids liked the many animals there and could even do some pony riding.
Paying Respect to the King in a Cinema
At the Kwan-Riam Floating Market we saw only a few foreigners, but many Thai people. We were hungry and had our most authentic Thai food so far. That does not mean, that all of us liked it. Food can get complicated when travelling with small children. Whereas Leandro has tried some Thai food already, Diego does not fancy it at all and wants to eat pasta instead. After lunch we did a little boat tour along the canal. Coming back from the floating market we saw, that there is a Spiderman comic movie in a cinema very close to our Airbnb. Leandro loves Spiderman and for Diego it was the first ever cinema experience. The funny thing in the cinema was, that just before the movie everybody had to get up just and pay respect to the king of Thailand. It seemed a bit odd, but we participated.
Arriving at the Beach
This Monday morning we flew from Bangkok to Krabi and continued by car to Koh Lanta, an island in the south of Thailand. We are still here at A&J Lanta, which is a collection of simple bungalows right at the beach. The kids have much more freedom here and can play independently at the beach. When we reached the place on Monday we were a bit shocked. The beach appeared to be extremely rocky. It was a full moon night and we arrived at low tide. There was hardly any beach. The kids liked to play in the natural pools, but we were disappointed. That all changed the next day, when we learnt about the tides here. Now we know, there is a time to go swimming and a time to play at the beach. Our beach shoes help a lot, because we saw many sea urchins on the rocks.
Family Atmosphere at A&J Lanta
A&J Lanta at Klong Khong beach is a very well managed beach resort. It is clean and the owners are very caring. They create a family atmosphere and give a lot of good advice on what, when and how to do – especially with the kids. It is very relaxing here. The beach is absolutely not crowded. There are a couple of laid back restaurants and bars at the beach. Almost all of them play reggae music. Bob Marley's spirit lives on at Thailand's beaches. As one would expect in Thailand there are many open air massage places at the beach, too. In the evening the sunset over the open ocean is amazing to watch. Apart from the rocks it cannot get much better. We will stay on Koh Lanta some more nights before we continue to Khao Lak on Sunday.