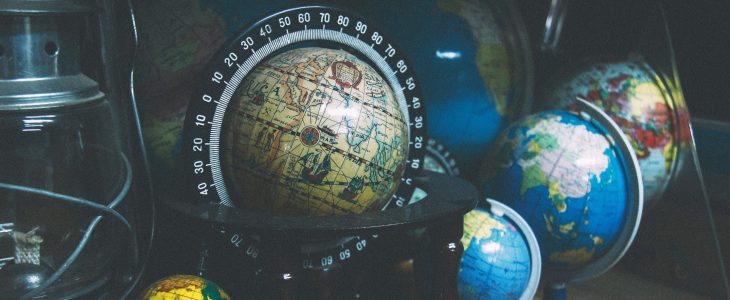 In less than two weeks, my wife, the two sons and I will head off for what will very likely be the adventure of our life time! All together we will go on a family world trip. For seven months we will travel around Thailand, Australia, New Zealand, Chile, Argentina, Brazil, Panama, Costa Rica, USA, Canada and Ireland. We will use all sorts of transportation, like plane, car, bus, train to completely surround the world once. The preparation has reached its most intense phase and we are very excited, but also more than just a little nervous. The first flight is set for 16th of January.
The Idea of a Family World Trip
I have always loved travelling and seen a fair share of the world. However, being in a regular job and having two kids changed priorities and travelling became different. Some months back, shortly before I left my old job, we thought about what to do next. The idea of a Family World Trip grew quickly and soon we understood it as a "once-in-a-lifetime" opportunity. Right at this point in our life all of us have the flexibility of taking some months off at the same time. I doubt this will ever be the case again. In the beginning we had some concerns about the kids. To be honest, it still worries us, how to make this trip pleasant for them. However, the more we talk to them about the trip the more excited they become, too.
The rough Itinerary
We booked all the larger flights, but have experienced several changes by airlines already. I reckon, this itinerary will be subject to change until the end of the trip:
2019/01/16: Munich, Germany -> Bangkok, Thailand
2019/02/08: Bangkok, Thailand -> Sydney, Australia
2019/03/22: Sydney, Australia -> Auckland, New Zealand
2019/04/05: Auckland, New Zealand -> Santiago de Chile, Chile
2019/04/19: Santiago de Chile, Chile -> Buenos Aires, Argentina
2019/05/07: Buenos Aires, Argentina -> Rio de Janeiro, Brazil
2019/05/17: Rio de Janeiro, Brazil -> Panama City, Panama
2019/05/23: Panama City, Panama -> San José, Costa Rica
2019/06/12: San José, Costa Rica -> Miami, USA
2019/06/19: Miami, USA -> New York, USA
2019/08/01: New York, USA -> Dublin, Ireland
2019/08/15: Dublin, Ireland -> Munich, Germany
For some destinations we have made some plans already, but for most, we will see how it goes along the way.
Southeast Asia & Oceania
Our first destination will be Thailand. We figured that it is a good country to start, because it has a good tourist infrastructure and is supposed to be very children friendly. In Thailand we will spend some days in Bangkok, Ko Lanta, Khao Lak, Khao Sok and Phuket. Domestic flights and accommodation are booked. However, feel free to highlight your personal "Must-See" to us. From Bangkok we will fly to Sydney, where we will stay four weeks. Carolina will participate in a business English course and I will explore the city with the kids. The last two weeks we will drive along the coast in a motorhome. From Sidney it will be a shorter flight to Auckland. In New Zealand we will stay in another motorhome and explore the northern island for two weeks.
The Americas
There is hardly anything planned for these countries yet. Thus, send us your recommendations! We definitely want to work on our rusty Spanish when staying in the mostly Spanish-speaking countries. A short trip to Montevideo in Uruguay is planned when staying in Buenos Aires. Rio de Janeiro will be the first of two family stops, where we will visit my first sister-in-law. I am particularly curious about Costa Rica. I have heard a lot and seen many awesome pictures. Miami is the second family stop, where we will meet my other sister-in-law. Carolina and the kids are already heavily excited about visiting Disneyland in Florida. Last stop in the Americas is New York. We will stay in the city for some days, before going on another road trip. We will have a motorhome for five weeks and plan to visit Canada during that period, too.
Round it up in Europe
The last stop on our Family World Trip will be Dublin in Ireland. I have been to Dublin some time back and absolutely loved it. We have two weeks in Ireland. The first days belong to Dublin, but afterwards we will explore Ireland by car. The whole journey takes seven months and we will be back in Munich in the middle of August 2019. We want to take you with us on this amazing journey! We will post  videos, pictures and blog articles regularly. Thus, follow us on the different channels linked below. We are still working on a WhatsApp- and an e-mail newsletter. This should be resolved soon and when it does, you will be notified. During the entire journey we appreciate all sorts of advice or feedback.
Follow US!