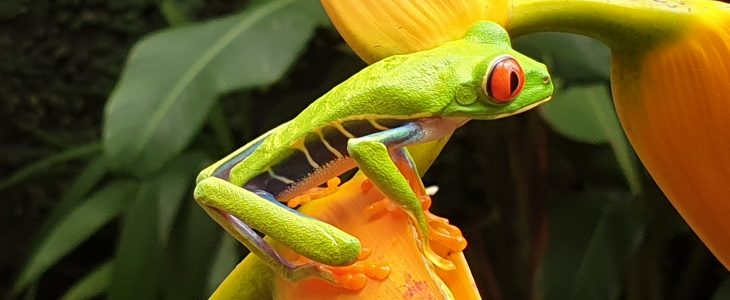 After almost four months we are back in the northern hemisphere. Costa Rica has enchanted us within only two weeks. Although it is comparably small, the landscape is extremely versatile. Its location between the Caribbean Sea in the east and the Pacific Ocean in the west create very different landscapes and climates. It is said, that Costa Rica has one of the most versatile flora and fauna in the world. From the little that we saw, we can absolutely confirm that. We had some trouble to get into the country (see last post), but that was soon forgotten. In the beginning we went to the southern Caribbean coast for a week. The beaches there were very nice, relaxing and kids-friendly. We continued to the central valley to see volcanoes and coffee plantations. Last but not least we went up the mountains into the cloud forests.
Banana Road to the Caribbean
Our journey from Rio de Janeiro to Costa Rica was long and tiring. Therefore, we stayed the first night near the capital San José. The next morning we drove to the southern Caribbean coast near Puerto Viejo. It is a 240km drive which does not look long on the map. However, in reality it took us about 5h to reach Cocles beach. It may be due to my driving experience in Brazil, but opposed to what we read in guide books, driving in Costa Rica is fairly easy. The rules are not always clear, but we have encountered only very few crazy drivers. We have encountered though hundreds of trucks along the way. The road to the Caribbean coast leads through endless banana plantations and we have seen numerous trucks of most major banana companies like Chiquita, Dole, Del Monte.
Being lazy in the Caribbean
At Cocles beach we stayed in a nice hotel with the beach just across the street. We spent one week in the Caribbean where we had an awesome and relaxing time. Cocles beach may not be spectacular, but it is a nice beach and a good place for kids to play around. One morning during a little jungle tour we saw many sloths hanging and sleeping in the trees near the beach. Our tour guide knew how and where to spot them and showed us about 15 of them within one hour. It was the first time we saw these animals. From that day on we spotted some ourselves almost every day. Apart from wildlife spotting we were lazy and did not do much at Cocles beach. The place was just so welcoming to do nothing, but enjoy the beach.
Picture Postcard Manzanillo Beach
One day during the week in the Caribbean we drove down till the southern end of Costa Rica where we spent a couple of hours at the gorgeous Manzanillo beach. This beach was absolutely beautiful with crystal clear water. Currently, it is off season in Costa Rica which means there are less tourists. However, Manzanillo beach topped everything. The beach is about 2km long and in total there were not more than 10 people at the entire beach. We even found a very interesting old ship wreck covered in sand. The water was very come with very moderate waves. This is very good for us, because both kids love to play in the water, but can only do that when the waves are moderate. We left this paradise place much later than intended.
Where is the Volcano?
From the Caribbean we came back to the central valley of Costa Rica. We stayed three nights in Poasito, which is close to the Poás volcano. I was really eager to see the volcano. Thus, we booked our tickets for the next morning. We got up early and had no breakfast to make it in time. It is said, that best views are in the morning. Because of the toxic gases one can only stay 20 minutes on the observation platform. However, that day we did not see anything, but grey fog. It was very disappointing and I was a bit annoyed, that we could not shift our tickets to another day or time. Without even a glimpse of the volcano we drove back down the mountain to finally get some breakfast.
Hacienda Alsacia – Starbucks Coffee Farm
After this huge disappointment we were looking for some nice breakfast. Coincidently, we figured out, that Hacienda Alsacia, the one and only Starbucks coffee farm was nearby. There, we had some nice coffee and breakfast before taking a tour around the coffee farm. The tour was very good. We learned a lot about the harvest and roasting process, history of coffee, differences of coffee plants and much more. Our guide was very good and explained many details. The farm itself is in a beautiful location with a large café at the entrance. We have grown fond of Starbucks over the last months, but that is not necessary to like the tour. In fact, we recommend taking this tour, because most other plantations sell the dried coffee beans and do not roast them themselves. The tour we took explained everything from the coffee seed to the final product.
First Adrenaline Rush
We left Hacienda Alsacia in a much better mood than when we arrived. It was still early afternoon and by accident we found a small adventure park with various attractions. That said, only one attraction, canopy or zip-lining, was actually functioning. Good for us, it was exactly what Carolina and Leandro wanted to do. Both were very courageous and Leandro even went down on his own. They went down five zip lines from one tree to another. When they came back Leandro was acting like nothing had ever been easier. The little guy is growing up fast. Diego was very sad he could not join the fun part. It took me a while to explain to him, that he is still too young and we would watch mummy and his older brother instead.
Spectacular Wildlife at La Paz Waterfall Gardens
The next day in Poasito started sunny. After breakfast we went to La Paz waterfall gardens which is a combination of wildlife zoo, hiking trails and several waterfalls. We spent the entire day there and loved the whole park. Before lunch time we visited the wildlife zoo, where we were especially fond of the toucans and the hummingbirds. Both birds are very colorful and jaw-droppingly beautiful. For Carolina and the kids it was the first time seeing toucans. I had seen some in the Pantanal in Brazil years ago, but never before from so close. Toucans are normally very shy, but in this park they are used to visitors. The beak of some toucans was as colorful as a rainbow – stunning! The hummingbirds are amazing because of their beautiful colors and their flap of wing which is indeed impressively fast and hard to catch with a simple cellphone camera.
Climbing up and down in Mist and Rain
After lunch we hiked up and down along the cascading waterfalls. There are five waterfalls and only a narrow and partially very steep path with many stairs leads from one waterfall to the next one. Right after we visited the second waterfall it started to rain. The rain and the mist from the waterfalls made the stairs slippery. Hence, it became even more difficult to walk. Additionally, the kids got tired and combined with the difficult path a bit cranky. We nevertheless enjoyed the beautiful scenery and took several pictures. Once we reached the final waterfall, we thought the walk is over, but we soon knew better. From the last waterfall we had to climb up the slippery stairs for several minutes again. Carrying Diego and convincing Leandro to continue walking became tricky. However, we made it and the kids got there well-deserved fresh fruit juice at the end.
Welcome to the Cloud Forest
Our last stop was Monteverde in the cloud forest. It is a beautiful region on a mountain ridge with the Pacific Ocean to the west and the Caribbean Sea to the east. The cloud forest deserves its name, because it was cloudy and rainy every day. Strong winds bring clouds either from the Pacific Ocean or the Caribbean Sea. Either way they have to pass this mountain ridge. It was amazing how all of a sudden we were right in a cloud and could hardly see 50m. The road to Monteverde is mostly a pure gravel road. The annoying part is not the gravel itself, but that most cars drive extremely slow and therefore feel every bump. My gravel road experience in Brazil taught me otherwise, but that meant overtaking several cars. Monteverde is a backpacker destination. Apart from India I have not seen so many hostels in one place.
Canopy at the next Level
We hiked in the cloud forest national park the first day. The environment is beautiful and the park very well maintained. The emotional part, however, was the second day. All around Monteverde, Canopy or Zip Lining is THE big thing. Thus, Carolina and Leandro wanted to do it again. As it is not really my favourite sport it was no question who stays with Diego who is still too small. The Canopy tour in Monteverde was several times larger than the one before in Poasito. Most of the lines were about 500m long and crossed valleys at a height of 60 – 70 meters. From a distance it looked scary. It even contained a bungee jump in the end. Both, mother and son were extremely courageous and got some really nice shots.
Costa Rica in a Nutshell
Costa Rica is a beautiful, versatile and very interesting country. It has a good tourist infrastructure, which has positive and negative effects. The country is called Switzerland of Central America, because it has declared its permanent military neutrality. Costa Rica even abolished its military several decades ago and invested the money in education and environmental projects. It wants to become a carbon-neutral country by 2021. This plan seems highly ambitious to me, considering the emissions of the loads of old trucks we have seen. Like Switzerland, Costa Rica is much more expensive than its neighboring countries. This was a surprise for me, because I was not at all aware of that before. I like the expression "Pura Vida", which Ticos or Costa Ricans use for almost every occasion. Now we are off to Miami for our second family reunion with Carolina's other sister.