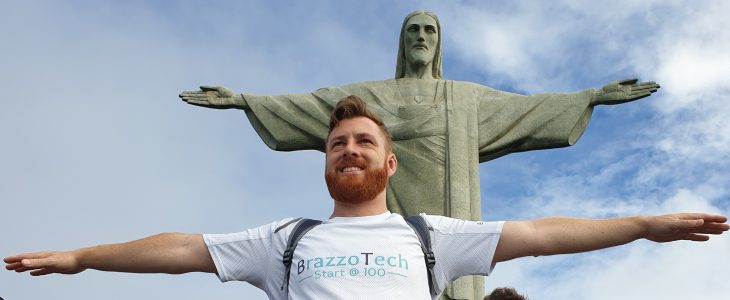 Sometimes in life things do not exactly work out as planned. Whereas we have been very lucky so far, we still had to learn our lesson the hard way recently. Although we prepared our family world trip with much care and tried to think of everything, we missed one important part. Therefore, we could not fly to Panama last Friday, but had to stay in Rio de Janeiro. Despite the hassle of getting our flights rescheduled it could have been worse. "A cidade maravilhosa" (Rio de Janeiro's nick name) is indeed a wonderful city and we are staying with family here. A little longer than initially planned, but not only the kids love to spend time with their aunt, uncle and especially cousin. Carolina and I have been to Rio de Janeiro several times already, but we still did some very nice sightseeing.
Coming Home
The journey from Buenos Aires to Rio de Janeiro was very quick. It is only a short flight and arriving here felt like coming home. Carolina's sister, who thankfully offered to accommodate us, lives in Botafogo. It is a nice neighborhood without many tourists. In the past, I stayed in Copacabana once, but there were far too many tourists. Botafogo is a more local experience. One can see the Corcovado, Christ Redeemer, from many places – even from the balcony of my sister-in-law's apartment. The kids were eager to meet their cousin again! He was topic number one for several days before. When they finally met, it was a very cute mixture of hugging, playing, dancing and singing. Over time there was also some fighting about who may use which toy, but generally they got along very well.
Maracanã – A Monument of Football History
Throughout our stay in Rio de Janeiro the kids went to child care in the morning along with their cousin. I believe, that was good for everybody. The kids could finally interact with other kids in their ages again. Plus, we could do more sightseeing than we could have done otherwise. In the end, it was a nice change and turned out well for all of us. Carolina and I used the time right away and visited the renowned Maracanã stadium. This massive football temple was home not only to Germany's last world cup triumph in 2014, but also to Brazil's first ever Olympics triumph in 2016. In this final Brazil bet Germany after penalties. With both countries linked so close in recent history at this place, we could not help ourselves, but take many pictures with both, the Brazilian and the German flag.
Suffering from Dehydration
Some days later I woke up in the morning feeling completely dizzy. Now, this would have been ok had I drank a couple of beers the night before. Unfortunately, I did not and that worried me. I showed clear signs of dehydration. Not drinking enough water, the heat and the humidity caused my unpleasant state. This day I finally started to appreciate fresh coconuts. In the past, I have never really liked their taste, but I have to admit, that drinking fresh coconut water absolutely helped me. I had known that, but never experienced it before. The rest of the weekend was pure family time. Sunday was Mother's day and the kids loved to give their mother a present. We went to a restaurant, which for mysterious reasons ignored our online reservation. The rest of the afternoon we spent together playing around in a nice park in Ipanema.
Several Observations
In general, Rio de Janeiro does not have as many parks with playgrounds as we saw it in Buenos Aires or Santiago de Chile. On the other hand, almost every major residential building has some sort of playground within the building. This is one of the differences we observed when traveling through South America. Sadly, I also noticed more beggars in Rio de Janeiro's streets. It may be due to the areas we stayed in each city, but it caught my eye. I also saw several original Volkswagen Beetles, which are called "Fusca" in Brazil. Although they were produced in Brazil for many years it still amazes me to see several of them in a very good condition. It still seems to be a very reliable and endurable car.
Strolling along Copacabana
Our initially planned last week started off with a visit to the famous Copacabana beach. The weather was very mixed that day as was the rest of the week. It was rainy in the morning. Later, when we strolled along the beautiful Copacabana beach promenade, the sun was burning. We did not know, that Mondays the Copacabana fort, located at one end of the beach, is closed. Hence, we only walked along the beach promenade, had some more fresh coconuts and stayed until lunch time. Copacabana was surprisingly empty that day. I remember when I first came here in October 2006 it was packed with tourists and locals. It was here that I fell for Rio de Janeiro's many eye-catching corner juice bars. They are almost everywhere and fresh fruit juices are simply irresistible!
Views from the Tijuca National Park
The next day we took an Uber and drove into the Tijuca National Park and all the way up to the Vista Chinesa. This is a mountain viewing point offering gorgeous views over Rio de Janeiro. We were somewhat lucky with the weather and took several nice pictures. It is called the Chinese view, because there is a wooden shelter looking like a Chinese temple. Views are stunning and we heard it gets crowded when the weather is nice. The surrounding Tijuca National Park is a unique and fascinating suburban rain forest. During one of our past visits to Rio de Janeiro we did some hiking in the National Park. This time we only wandered around for less than an hour, because we were not prepared for any hiking and it is very easy to get lost in the dense rain forest.    
Going for the Santa Teresa Tram
One thing we had not done in any of the previous visits to Rio de Janeiro was taking the beautiful historic tram up to the bohemian Santa Teresa borough. The "Bondinho de Santa Teresa" passes the Arcos de Lapa (Lapa Arches) and climbs up the narrow streets all the way to the center of Santa Teresa. Santa Teresa is a beautiful, old and colorful part of Rio de Janeiro with a lot of interesting colonial architecture – exactly the style which I like. We went to the historic tram station right after we dropped the kids off at child care. Disappointingly, when we arrived we were told, the tram would not work, because the storm the night before caused some trees to fall and damage the power cables. Instead we took the local bus, which left nearby.
Feeling Down
I was not feeling very well that day. For unknown reasons my injured knee started to hurt again at every step. This combined with the rainy weather and the disappointment about the not working tram let my mood drop a lot. The bus took us to a square that did not look very safe and friendly. We started to walk back immediately the same way the bus came up. We passed several colorful buildings, but like most things they did not appear very pretty in the rain. We reached the central square of Santa Teresa shortly before lunch. We decided to stay and have lunch in a very good northeast Brazilian restaurant. The food was delicious and made up a little for the earlier disappointment. In the afternoon the tram still did not work. Thus, we took the local bus back to central Rio de Janeiro.
Corcovado – Fighting for Pictures
Last week Thursday was a fully packed sightseeing day. In the morning Carolina and I took the small train through the rain forest of Tijuca National Park up to Corcovado. Weather-wise we were extremely lucky, because during the train ride it rained heavily, but when we reached Christ Redeemer the clouds opened up and revealed the enormous astonishing monument. Although the weather was generally not very good, there were loads of tourists. With so many people almost fighting to get roughly the same shots it was very tough to take good pictures. Nonetheless, we managed to take some good ones, but were happy the kids did not have to go through that. Despite the fact that neither elevators nor escalators worked, there were many elderly tourists climbing up the final stairs. The return train ride led through fascinating landscape once again.
No Sugar on Sugar Loaf
In the afternoon we went with the kids to Pão de Açúcar. The famous Sugar Loaf is another symbol of Rio de Janeiro. It was tricky to explain to our toddler why there is no sugar on something called Sugar Loaf. The confusion gave way to enthusiasm when we boarded the first of two large cable cars that took us up the hills. Again the weather was not perfect, but from time to time the clouds let go of the Christ statue on the other side of Rio de Janeiro. Pão de Açúcar offers astonishing views to many parts of the city: the famous beaches Leblon, Ipanema and Copecabana; Botafogo with its yacht marina and Christ Redeemer; central Rio de Janeiro; the enormous Rio-Niterói Bridge, Guanabara Bay all the way until the very north of Rio de Janeiro. Besides the spectacular views it is easy to visit with kids.
From Hero to Zero
The next day was Diego's birthday and the day we were supposed to fly to Panama. We got up early and had a short, but beautiful birthday celebration. We also left early for the airport, because traffic in Rio de Janeiro is unpredictable. It rained heavily since the night before, which usually causes huge traffic jams. For us, there was no problem and we arrived early at the airport. Completely relaxed we made our way to baggage drop-off. When the lady asked us for our yellow fever proof I was still very confident to board soon. I gave her all our vaccination cards when she told me, she could not find the kids yellow fever proof. Being relaxed and optimistic ended instantly at that point! Very nervous we called our pediatrician, who, unfortunately, confirmed that we missed the yellow fever shot for the kids.
Learning the Hard Way
Copa Airlines told us, that entering Panama or Costa Rica from Brazil requires a yellow fever vaccination and there was no way we could board that plane. It was simply a lack of preparation on our end, because the information is available on the internet. The airport staff of Copa Airlines was helpful and I assume we were not the first case of that kind. They told us we could reschedule our flights, but incubation time is ten days and therefore we had to stay in Brazil for at least another ten days. Thinking about our options, we decided to first get the yellow fever shots for the kids resolved. We figured out a public vaccination center not far from the airport. It sounded great and easy, but we did not account for Brazil's exaggerated need for bureaucracy!
Face to Face with Brazilian Bureaucracy
We went to the vaccination center and it did not take long for them to give the kids the required shot. However, instead of handing out a proper certificate or completing the existing international vaccination cards, they only gave us a piece of paper. With that piece of paper we had to register online on some governmental site. Then, we had to print out that registration and believe me finding a public printer at the airport was no easy task. With that printout we had to go to some other public health organization at the airport. As a final step they also required the kid's birth certificates, which luckily we carried with us all the time. It seemed insane to us, but normal to the people working there. After several hours of driving and running around we got the yellow fever vaccination certificates for both kids.
Long and Tiring Discussions with Copa Airlines
The trouble was not over yet. The Copa airport stuff told us, we could reschedule our flights with no additional costs, but only a modification fee. When calling Copa reservation center that sounded completely different. They only wanted to reschedule for costs higher than booking entirely new flights. We should have paid around 2.500 USD. After waiting in the line, discussing with many staff members and several supervisors for hours we ended up with a better, but still far from optimal solution. Copa agreed to reschedule our flights for only the modification fee, but only if we fly out of São Paulo instead of Rio de Janeiro. Hence, we had to book another flight to São Paulo. It was neither what we had in mind nor what the Copa airport staff explained to us initially, but after all the best we could get.
It could have been worse
In the end, we will first fly with LATAM to São Paulo on 27.05.2019 in the evening. Just after midnight we continue with Copa Airlines to Panama and straight away to Costa Rica. This means we lose Panama, but we had to make a decision. Rescheduling still had a serious impact on our budget, but much less than the initial sum mentioned by Copa Airlines. Additionally, out of all places we visited so far, Rio de Janeiro is the best place to hang around longer. This way we stayed longer with the family and celebrated our nephew's birthday with him. Furthermore we used the remaining days here to plan our stays in Costa Rica, USA and Canada in more detail. As usual in life there is always a positive side if one is able and willing to see it.