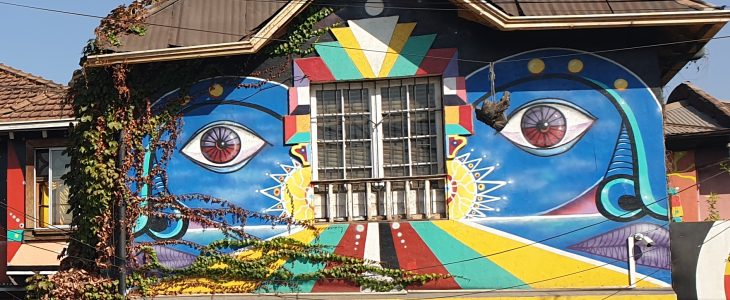 By now, we are travelling for three months and we have made it to the third continent. We are in South America, precisely in Santiago de Chile. I have to admit, we felt the urge to take it a little slower here. During our stay in New Zealand we have seen a lot. That was good on the one hand, but on the other hand we were always a bit rushing. In Chile we stayed in Santiago for the entire time, explored this gorgeous city and did only two exciting daytrips to the nearby coastal town of Valparaíso and the famous vineyard Concha y Toro. Additionally, this time it was my turn to take a Spanish class.
Travelling back in Time
We arrived in Santiago two weeks ago after the longest flight on our family world trip. As you can imagine it was tiring. However, it is funny to get on the plane in the evening and get off the plane the exact same day in the afternoon. Now we know how travelling back in time feels. We booked an Airbnb in the lively Bellas Artes borough right in the center of Santiago. It looked very good on the pictures and the location appeared to be perfect for us. When we arrived at the apartment however we were absolutely shocked. It was totally dirty – and I mean disgustingly dirty! The owner promised a solution for the following Monday, but we did not want to spend an entire weekend like that. Therefore, we decided to clean the least part of the apartment ourselves.
Learning Spanish in Chile
The proper cleaning the following Monday worked out well. Furthermore, the location of the apartment was as good as we imagined. Bellas Artes is a lively, but very nice neighbourhood. Many tourist sights are in walking distance. Two stations of Santiago's large metro system are nearby and parks with playgrounds are not far either. I could even walk to my language school where I took a private Spanish course. I had two wonderful teachers at Escuela Bellavista and learned a lot. I am still far from good and mixing Spanish and Portuguese often, but I am able to understand people and express what I want. For me, that is a good start. As we will travel through several Spanish speaking countries, I am optimistic to improve further along the way.
First Impressions of Santiago
Santiago is a very dry city. It does not rain often and due to the mountains surrounding the city there is not much wind either. The result is, that the air is much polluted and this is absolutely visible every day. It is a shame, because the sky is mostly clear and the views to the mountains would be stunning. However, Santiago is still a very nice city. There are many parks everywhere in the city and most of these parks have very good playgrounds for kids. The Sunday after we arrived, we went to the Parque Bicentenario in the north of Santiago. We were not at all aware of the Santiago marathon that day. Before we realized it, we were in a taxi trying to get to the park. The taxi driver itself was not sure where he could go and where the roads were blocked.
Up the Hill in an old Funicular
As I normally participate in such events, I do not really care about which roads are blocked, but this time it was different. After some time going back and forth we made it to the park. There, we found an enormous playground and probably half of Santiago's kids. We definitely got off on the right foot with Santiago. It got even better two days later when we visited the Cerro San Cristobal part of the Parque Metropolitano. It is a hilly park. On top of the highest hill is a statue of Virgin Mary. It looks like a smaller version of Cristo Redentor in Rio de Janeiro. We went with an old funicular up the hill to see Virgin Mary. Although it did not appear very safe, the funicular ride was fun. We took some time to climb up the final steps to the statue.
Enjoying Cerro San Cristobal
When we were done with Virgin Mary, we crossed the park by cable car and went to the other end of Cerro San Cristobal. The views from the hills and from the cable car were very nice, but once again limited due to the pollution. Nonetheless, the funicular and cable car ride is definitely a highlight in Santiago. Furthermore, in the middle of Cerro San Cristobal is an adorable playground where kids can even play music. In total we stayed much longer in the park than we initially we expected. It became quite cold when we arrived at the funicular station again in the evening. Back down we returned to the apartment via the bohemian Bellavista borough, which I explored a bit more a couple of days later.
Beautiful Street Art in Bellavista
The other day we went to Costanera Center with its enormous skyscraper. It owns Latin America's highest observation deck on more the 300 meters. The views up there are good and once again, could be absolutely amazing if it were not for the pollution. In every big city we stopped on our trip so far, we have visited a stunning observation deck. Looks like this becomes "our thing". A day later my Spanish class took place in the morning and afterwards I decided to walk home and stroll through the beautiful Bellavista again. There are so many beautifully painted buildings, bars and restaurants in that bohemian neighbourhood. I just love that kind of art. We have not been there at night, but I am pretty sure is it is awesome. Very close is a university. Frankly, studying there I do not believe, I would have ever passed any exam.
Flower Clock of Vina del Mar
Just before the weekend we went on a full day tour to Vina del Mar and Valparaíso. I had read about the beautiful street art in Valparaíso. Sadly, the trip with a tourism agency was disappointing. We spent almost the entire day in the bus. Additionally, we spent much more time in and around Vina del Mar than actually in Valparaíso. The only highlight in Vina del Mar is a flower clock that has been built for the world cup in 1962 and is maintained well ever since. The flower clock is very pretty, but was not the reason why we went on this trip. In the afternoon we finally went to Valparaíso. I understood why the bus driver did not want to spend much time there. The narrow and windy roads where extremely difficult to navigate through.
Imagination vs. Reality
After all, we had only little over one hour to walk around in Valparaíso. And even this time, we could not really explore the street art as the guide basically took us simply down the hill where the bus waited for us. Fortunately, Carolina got us a map and the last twenty minutes we went a different way on our own. Leandro and Diego met a Colombian friend on the bus and played with him the entire trip. Hence, these two were happy although they spent almost the entire day sitting in a bus. I on the other hand felt like a very old person getting shipped around from on sight to the next in a bus like that. I imagined Valparaíso as a beautiful place full of street art, which it certainly is. However, on our trip imagination and reality differed heavily.
Leandro's Birthday Party
Still tired from the bus trip we, actually Carolina, prepared for Leandro's birthday last Saturday. He turning 5 this year made me realize how time flies once again. We gave Leandro two options how to celebrate his birthday. Either we go to Kidzania, which we had seen in Bangkok already, or we visit an amusement park called Fantasilandia. He chose the latter and as it turned out it was a superb choice. We had a brilliant afternoon in Fantasilandia. We stayed mostly in the kid's zone, but there were many cool attractions. In some of them we got really wet. There were trains, trucks, pirates, tubes, rollercoasters and much more. What more can a kid ask for. Good for us, as it was Leandro's birthday, he did not even have to pay. Watching his reactions throughout the afternoon, he loved his birthday at Fantasilandia.
Squabbling Siblings
It was a bit difficult for us to think about his birthday party when all of his friends are so far away. Fortunately, Diego and Leandro are bonding even stronger than they already had before. That does not mean, they never argue. At times, it is stressful to endure their little sibling fights with screaming and beating. Both have their own way of provoking each other, but also of defending each other. And not always the taller and stronger one wins an argument. However, the two are only arguing when it is only the two of them. As soon as there is a third person, they become one team and defend each other heavily. This is fun to watch at playgrounds.
Chilean Wine Tasting at Concha y Toro
In the beginning of this week we went on a half day trip to the world famous vineyard Concha y Toro. We went with the same tourism agency, but this trip was so much better. The bus ride was limited to the way there and back. The main vineyard of Concha y Toro consist of a beautiful garden with a huge mansion. Unfortunately, it was not possible to visit the mansion itself. Nevertheless, we enjoyed two little wine tasting sessions in the park, which was delicious. We saw samples of all the grapes that are used in the garden. The grapes for the real wines come from several places all over Chile. During the walking tour in the garden and the wine cellars we learned about the history of the vineyard. It was very interesting and tasty. We definitely recommend taking this tour.
La Vega is one of my Personal Highlights in Santiago
Our last sightseeing activity in Chile was a half day bike tour through Santiago. Santiago is a very bicycle friendly city. Diego sat in the back of Carolina's bike and Leandro's bike was attached to mine. We went through bohemian Bellavista where we admired the stunning wall paintings again until Pablo Neruda's house. From there we went to La Vega market which was my absolute highlight. I love fruit and vegetable markets and this is a hell of a good one. I could have spent much more time admiring the many shops, inhaling all the different smells and taste some more delicious street food. But, we were not the only ones and moved on to the central market, which we had visited the first day already. It is a pretty fish market, but nothing compared to La Vega! If in Santiago, you must not miss La Vega!