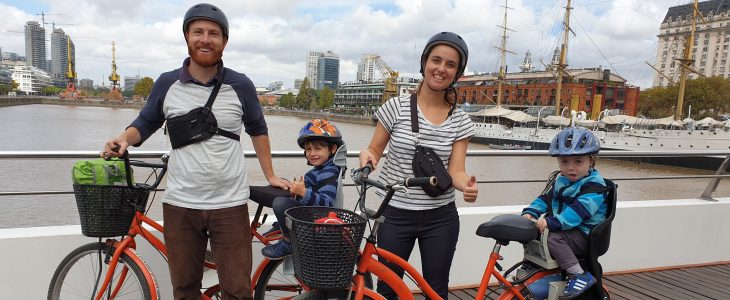 After a little more than two weeks, we left Buenos Aires and Argentina. The time in the land of Tango was full of different emotions. We enjoyed delicious food and stunning dance performances, were nervous when seeing some thieves stealing an iPhone from tourists in a public bus during the day, explored the city by bicycle, bus, metro and foot, and were a little disappointed by our day trips to Uruguay and a Gaucho ranch. Buenos Aires itself we liked a lot. It is a gorgeous, very kid-friendly and exciting city with many sights to visit and a broad culture to experience for all ages. Although it was clearly autumn and a bit cold and rainy, we had a great time in Argentina's capital.
Credit Cards are not welcome
The day we arrived I had to learn, that Argentina tops even Germany in being the most credit card-unfriendly country. Coming from New Zealand and Chile where Google Pay and credit cards are accepted almost everywhere without any additional fee, it was a culture shock to pay 10 US dollar every time I withdrew money at an ATM. Google Pay did not work in any of the places we visited in Argentina and several restaurants in Buenos Aires only accepted cash. It reminded me of the time when I moved to Bavaria several years ago. One visible result is a booming black market for money exchangers in the center of Buenos Aires. I am not sure, this helps the economy. One possible reason for the restrictions might be inflation. I noticed the exchange rates changing quickly even in the short time we stayed in Argentina.
Getting local SIM Cards
Another tricky thing was to get local SIM cards. As part of our travel routine we buy local SIM cards with internet in every country we visit during our family world trip. That was extremely easy in Thailand, Australia and New Zealand. It was kind of complicated to activate the cards in Chile, but worked out after some hours. Argentina topped all of that. Unfortunately, we arrived at the Easter weekend. Therefore, many shops were closed and it was hard to get a local SIM card anywhere. The registration / activation required serial number of the smartphone, passport, picture of me, picture of me holding my passport and several other things, which I sent via Facebook Messenger to my provider. Once the activation was completed I had to go back to one of the few open shops to top up my credit. It was a complicated as it sounds.
First Beef in Argentina
To brighten up our mood we went to a very welcoming restaurant near our Airbnb in Recoleta. In Argentina we had to go out and eat some good beef. "La Cholita" is a nice BBQ restaurant and remained our favorite until the end. The meat was delicious, the plates huge and the artisanal craft beer very tasty. However, only cash was accepted. On the way back we saw a beautiful playground very close to our Airbnb. Unlike in Santiago, we were extremely satisfied with our Airbnb in Buenos Aires. The location in Recoleta was perfect to explore different parts of Buenos Aires. The place was clean, comfortable and spacious, the neighborhood was beautiful and safe, and public transport was nearby. We could not have chosen a better place. Luckily for us the owner of the first place we booked, cancelled our reservation.
Exploring Buenos Aires by Foot
The next day we started sightseeing in Buenos Aires. The weather was good and we decided to walk to the city center. We walked a lot that day visiting the famous Casa Rosada and the Catedral Metropolitana before lunch time. Both buildings are very pretty and impressive. We were just in time for the closure of the Easter mass at Easter Sunday in the cathedral. When we left the cathedral we saw a huge avenue called "Leandro…" and obviously we had to show Leandro "his" avenue. We continued walking all the way down to San Telmo. San Telmo is a gorgeous bohemian borough with many bars and restaurants, beautiful architecture and an interesting, but very crowded market. The entire street from the center to San Telmo was a huge Sunday street market. We still walked back to the city center before taking the metro to Recoleta.
A most unusual Cemetery
The next day we visited the extraordinary Recoleta cemetery. Several friends, blogs and guides highly recommended visiting this place. Initially, I did not understand, why a cemetery should be one of the major tourist attractions in a city like Buenos Aires. However, this is no ordinary cemetery. Many of the graves are bigger than houses and almost all of them look like very expensive art work. I have never seen anything alike. On top of that the famous Eva Peron (aka Evita) is buried at this cemetery. All of that explains, why the cemetery is so popular. Next to the cemetery is a kid-friendly museum called "Forbidden not to touch!". The name sounds very promising, which is why we wanted to pay a visit. However, it was Monday and the museum closed. It was our first unsuccessful attempt to visit this museum. Some more are about to follow.
Developing a Travel Routine
Some people have asked what makes travelling for such a long time different from ordinary vacation. This is not easy to answer, but I think developing a certain routine and adjusting this routine to every new place or country is something different from ordinary vacation. For example, as mentioned above, we always buy some local SIM cards in every place. We also need to figure out how and where to do grocery shopping, find a playground close by, understand public transport, find a decent coffee (not that easy!) and probably most important getting Leandro and Diego used to the new environment. This includes eating and especially sleeping. Sometimes they sleep in two different beds, sometime together in one large bed. This is not always easy for them, but so far the do well.
The Importance of Doing Less
It is also important to resist the temptation of visiting too much. In all countries we visited, we could have visited far more than we actually did. We missed out on major tourist attractions and did that on purpose (e.g. Ayers Rock in Australia, the Southern Island of New Zealand, Patagonia in Argentina and more). Travelling for such a long time means many different impressions and a lot to process for everybody. It is very important to calm down in between every now and then. In an ordinary two- or three-weeks-vacation this is not that important, but the longer we go the more we feel the need to do so. It might sound strange, but what happened only a couple of weeks ago already feels so distant.
Bicycle Family Explorers
Buenos Aires claims to be one of Latin America's most bicycle friendly city. We therefore explored the city for two days by bicycle. With two toddlers that is some challenge. Fortunately, we found rental services that had seats for children. The first day both seats were attached to my bicycle and it took a while to get used to that. Getting around was good, because we strictly followed the streets that had cycle paths. There are several throughout the city. We cycled until the early evening and just before we returned our bicycles Diego fell asleep on the bike. The second day we explored a different part of the city and went to the eco reserve at the coast line. It was nothing spectacular, but at some point a poisonous snake crossed our path. It was good to know, that our bicycles were quicker than the snake.
Latin Americas unfortunate Downside
The second day we returned our bicycles in the afternoon and strolled again through San Telmo. On the way back we took a public bus. I had Diego with me and Carolina followed with Leandro a few meters back. She saw two suspicious guys watching us and jumping on the same bus. We sat down in the elderly/kids section. Two older British women were sitting next to the door discussing and showing something on their iPhones to each other. At the next stop just before the doors closed one of the guys grabbed one lady's iPhone, jumped out of the bus and ran away. It happened so quickly and in front of everybody. We were shocked, not only because the guys were initially looking for us. With two little kids we are an easy target, because it is simply impossible to always pay attention.