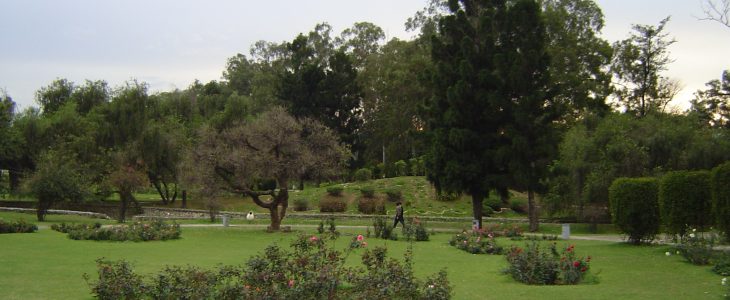 During this week I thought it was getting colder, but that was only because I was already at work by 8 am and came home by 7 pm. Yesterday and today I was finally outside during the day and it is still as warm as in summer in Germany. However, it is pleasant, because it is not so humid anymore.
Rickshaw Experiences
I want to tell you a few things about Chandigarh and life here. First of all, I get to know many new people. Almost every day several people ask me, where I come from, why I am here and most important how I like India. I already have my 'personal' car rickshaw driver learning some English. I am also learning some Hindi. We always try to communicate a little. He gives me a good price and I do not have to negotiate with him all the time. The price haggling before every rickshaw ride is annoying at some point. Therefore, I only give what I think is appropriate. As expected, that is usually not enough for them.
Macho Culture
India has a strong macho culture. A few times, I had dinner with Indian families and each time the women only ate when the men were finished. In Japan this must be even stronger. For example, women stand one meter behind the men when they walk through doors. This makes me uncomfortable, but knowing it at least I understand, what my roommate Kazuyo was doing.
Sukhna Lake
Yesterday evening we went to the Sukhna lake, which is located in the north of our city. Surpreet, one of my local friends took me there. It is a very nice place, if you ignore the mosquitos. But that is not so bad either. I have not used any mosquito repellent yet and was bitten maybe ten times in three weeks. Half of it, however, resulted from running in the park. Every evening Carla and I go running for half an hour in the 'Garden of Fragrance', which is only a few hundred meters away from our apartment.
India vs. 'Rest of the World'
I am about to set up a Soccer Match India vs. 'Rest of the World'. The great thing is, I have found many Indians who want to play. However, we will have to limit the whole thing to a 5 against 5 match. Not many of the 'Rest of the World' are talented. We have to play with two women. That was one condition of the Indians. It is not bad at all, because a German girl plays football and of course Carla, my Brazilian roommate, is a football enthusiast. Let us see when the match will start, because in India things take some time…
Indian Processes
I received my credit card from the bank two weeks ago. However, I still have to wait for my PIN to activate the card. Yes, I need the PIN to activate the card. I have never heard of such a security system. But this is not the only strange process. For example, in many small restaurants one has to order at the first checkout, pay at the second, then go with the bill to the place where you say what you get, there you get a number and once the number appears on the display one can pick up the food. This way there are hardly any unemployed here.
Learning each other's Languages
My flat mates want to start learning German and have already bought books for it. It is so funny! It is really hard for them to get the pronunciation right. In addition to to Hindi and English, I also learn Portuguese now. But I also have large problems with the pronunciation. For all football fans Ronaldo is pronounced as follows – Honaldo – it is very tricky.