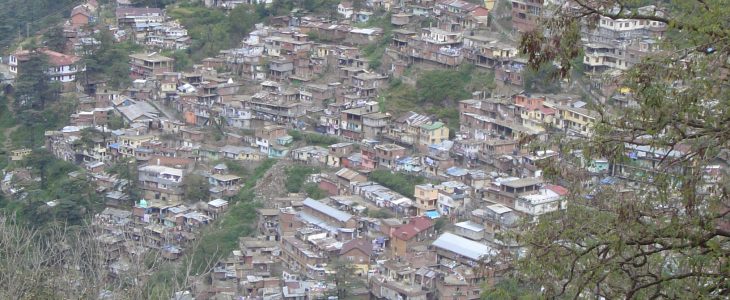 Last weekend the time had finally come. Claudia and Ralf, my close friends from Germany, came to visit me in Chandigarh. It was not easy to pick them at the train station, because once again I was the only foreigner there. Of course, I was immediately spotted by a beggar boy. As always, I arrived much too early and additionally the train was late. Thus, I had to deal with the beggar boy for about 45 minutes. At some point I felt pity for that boy and bought him something to eat. It was the first, but not the last big mistake. Now, he wanted to be my brother and come with me, which of course I did not like so much. Well, at least Claudia and Ralf had their fun.


Heated Discussions at the Bus Terminal
After the usual Friday evening party, we went to Shimla with very little sleep on Saturday morning. First, we had to take the bus to a small stopover city called Kalka. When we arrived early in the morning at the ISBT (Inter State Bus Terminal), we already got the typical chaotic experience. We asked for Kalka and of course, suddenly every bus drove there. There I made my second big mistake and listened to a person who became quite aggressive in the end. We escaped after several heated discussions and finally found the right bus.


Toy Train from Kalka to Shimla
Upon arrival in Kalka, we finally met the other students and the journey continued smoothly. We then took the toy train to Shimla. The ride with this narrow-gauge railway takes six hours. The train climbs up approximately 2000 meters at a length of 100 km with a speed of 20 km/h. The view and the landscape during the train ride are superb! We had reserved seats in first class, hence, the trip was relaxed. Except for some moments. At one station a bunch of beggars wanted to get on the train. Fortunately, Claudia was alert and locked the doors. However, swiss Philipp – whatever he was thinking, I do not know – opened the doors. At this moment nearly 100 poor people and beggars stormed into our small compartment. This was the third big mistake. By far the biggest and this time not from me. We were lucky not to suffer from claustrophobia. Fortunately, the conductor rebuked everybody and kicked them off the train at the next station. Afterwards it was relaxed again and we arrived well in Shimla.
It's fun to stay at the YMCA
In Shimla we had to look for a hotel. Only part of our group had found one immediately when we arrived. This meant for me and three others, we had to keep walking for 2.5h in rain and cold. Up in 2200m altitude it can get cold in India, too. Around eight o'clock we found a room at the YMCA, which prompted us to spontaneously celebrate this song in the evening. We had to be back by 11 pm, because they closed the entrance gates at this time. The next day we visited the monkey temple. It was 500m up from Shimla, so some of us struggled to get up there. This time the monkeys were not as aggressive as in Haridwar, but only cute.
Bus Ride in the Mountains
After an huge and tasty lunch we started our return to Chandigarh by bus at around 5 pm. At first, we made good progress, which caused Esther, an English girl, to use a plastic bag a couple of times. Well, understandable, because the ride down contained many curves through the mountains. We already hoped to be home in 3.5 hours. However, some Indian drivers created a huge traffic jam, because they drove and overtook without thinking resulting in a serious accident. On a two-lane road with hundreds of curves many try to overtake everyone. There might or the might not be someone on the other side behind the curve – it simply does not matter to some drivers. Anyway, we were stuck in this huge traffic jam for about three hours and arrived annoyed and tired in Chandigarh only at 11 pm.
Shimla got to me
After all, it was a lovely trip. Each of us thought we could have stayed in Shimla for another week. It was very relaxing to get out of the typical noise of the city. In the mountains the air was great, the people were calm and the weather was great except for the rain in the beginning. I will definitely go back there.