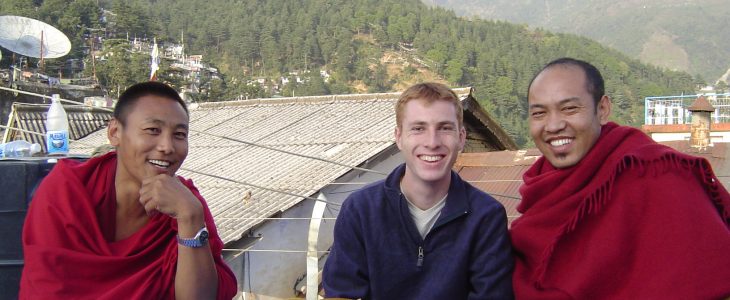 Last weekend was a longer one and so we went to Dharamsala, a town in the Himalaya foothills. A bit similar to Shimla, it is located 2000 m above sea level. There is the exile seat of the Tibetan government and especially of the Dalai Lama. After some struggle in the beginning it turned out to be an amazing weekend and we were extremely lucky to meet his holyness, the Dalai Lama.
Queuing in India
The journey to Dharamsala started very stressful, because we had to queue up to get tickets. This may not sound difficult, but Indian queues at bus stations are more like a fight to the death. Especially when there are only half as many tickets as people. After I was chosen to be the one waiting in the queue, it took more than 45 minutes until the counter opened. 45 minutes with constantly being pushed around by many people. The counter opened precisely 15 minutes after the bus was supposed to leave! When the first ones had received their tickets and wanted to get out of the way, I was suddenly pushed out of the queue by three Indians and it started all over again. That was around midnight and my mood was not at an all-time high.
We need another bus!
Finally, on the bus all of us managed to fall asleep. We only woke up when we heard some nervous shouting and almost fighting outside of the bus. The bus had stopped and initially we had no idea what happened neither where we are. Some of the Indian passengers explained to us, that the bus broke down and we had to wait for the next one. There we were – at 3am in the middle of nowhere in India – waiting in a cold night for a bus that had to come from – I still have no idea. Despite of all the usual chaos in India, getting another bus to pick us up worked extremely well. I think it only took around two hours, which in my opinion is impressive! The journey continued without any further obstacles.
Peace of Mind
In Dharamsala (or better McLeod Ganj) everything was much quieter than in other Indian cities. There live mostly only Tibetans with a couple of tourists from around the world visiting the city. I felt Tibetans are so much calmer and, in a way, shyer than Indians. In general, the whole city and the whole stay was very pleasant. There are hardly any beggars and almost nobody trying to sell anything in an annoyingly aggressive way.
Meeting his Holyness
Saturday morning, we got up around 4am and went to the big temple in McLeod Ganj. There, we saw HIM, the Dalai Lama. He was only about ten yards away from me. I am not religious at all, but that was special. I felt like something special was happening when he entered the room. I cannot explain it, but that aura was magical. We were really lucky, because he is not often there. As far as I heard, he only joins very few masses a year. Hence, the day started very well. For those who really do not know, who the Dalai Lama is – he is the spiritual leader of the (Tibetan) Buddhists. Similar to the Pope in Christianity. I have always wanted to see the Dalai Lama for real. Thus, my day was made and the entire trip was worth all the pain in the beginning.
Himalayan Sunburn
We continued with another delicious Tibetan breakfast. I have to say that Tibetan food is excellent. Later a small group of us went for a hike to the nearby mountain Triund. That meant climbing up 1000 meters in about four hours. The whole time in the sun. It took me a long time to explain to my work colleagues, why I can become so red. The word sunburn is not really familiar to many of my Indian colleagues. And even Esther, the English girl, teased me how I managed to get sunburnt in the mountains. However, the hike was great. It was only pity that we did not have the same good weather on top of the mountain.
A German Bakery in India
Sunday, we went to a waterfall outside of McLeod Ganj. On the way to the waterfall we passed a German bakery. Who would have thought that somewhere in the Himalaya, there is a German bakery? Close to the waterfall, there was a beautiful little café, where we spent a long time. It was just such a perfectly relaxing place. They told us, that it was their last day of the summer season and they would close the next day. We were the only guests there that day. In the afternoon we went on the eight-hour bus journey back to Chandigarh. All together a remarkable weekend. Luckily, I had bought a great fleece sweater for 1.50 € (!). Otherwise it would have been cold in the mountains.