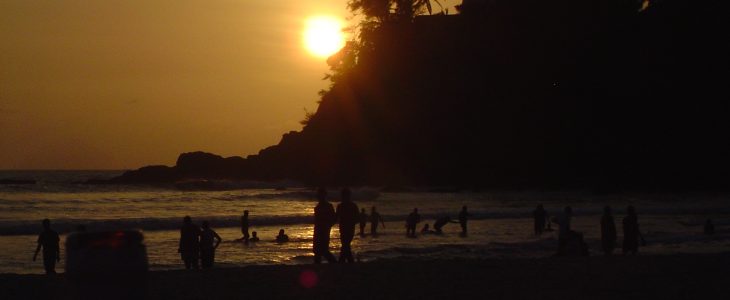 I am back in Goa again – finally I made it! Since I was here the first time in 2004, I always wanted to come back! After seeing the Ajanta & Ellora caves near Aurangabad, I went to Pune. Pune is a thriving IT city near Mumbai. Unfortunately the weather was really bad and it rained heavily. I only stayed 1 ½ days in Pune, but could not visit any sights due to the weather. Pune is famous for its Osho Medidation center. As outside activities were simply not possible, I decided to go to a local cinema and watch some Bollywood movies. It is always funny to see Indians wondering why a white guy watches Bollywood movies purely in Hindi. In the cinema I saw propaganda for my movie Karzzzz. It will be released October 17th and I am already curious.
First Time in an Indian Sleeper Bus
From Pune I went by sleeper bus to Goa. It was the first time I took an Indian sleeper bus and very likely the last. I am not made for sleeper busses, because I need some more space to sleep. Sleeper bus means two persons have to share a little cabin of 180 x 100 cm. I was a little afraid of not being able to sleep. Hence, I bought the spot next to me, too. Therefore, I had the entire sleeping cabin for myself. Against my initial concerns, I got some sleep that night. In the morning, I arrived safely in Goa and I immediately loved it again.
Portuguese Influence in Goa
I went to a small hostel called Park Lane Lodge where the owners speak Portuguese (like some other people here)! When I told them I speak Portuguese, too, they were absolutely happy and we had a long chat about many topics. They did not reduce the price for the room, though. The first two days I explored Panaji, the capital of Goa. I love this colonial architecture from 15th and 16th century. It is very colorful. The Portuguese influence is very present in Goa till today. Like the owners of my hostel, several older people still speak the language. There are many Christian churches and most of Goa's habitants are Christians.
Lovely Benaulim Beach
After sightseeing in Panaji, I hired a scooter to get around. I love that feeling of pure freedom whilst riding a scooter on Goa's roads. For me, it cannot get much better. The first day on the scooter I went to south Goa. On the road my arms felt the strong sun soon and started to get burnt. Thus, I stopped in Benaulim, a small beach village I had visited four years ago. I spent the entire afternoon in a bar at the beach. I went into the water a couple of times and the rest of the time I enjoyed watching the waves and having cold beer. Superb!
Having a great Time at Baga Beach
The next day got even better. This time I went to north Goa and stopped at Baga beach. I had not visited this beach during my first visit to Goa. At the Baga beach I found a lovely bar with Latino music. Again I was watching the waves crushing into the rocks, but this time I did not go into the sea. Instead, I enjoyed some cocktails and a hookah. I was sitting in this beach bar for hours until the sun went down over the ocean. What a great feeling. The stay was almost perfect. The only thing missing in this picture was Carolina, my fiancé. If she had been there with me, I am absolutely sure we would not have left the place anymore. Tonight I am going to Hampi. I am a bit sad to leave Goa, but life has to go on.