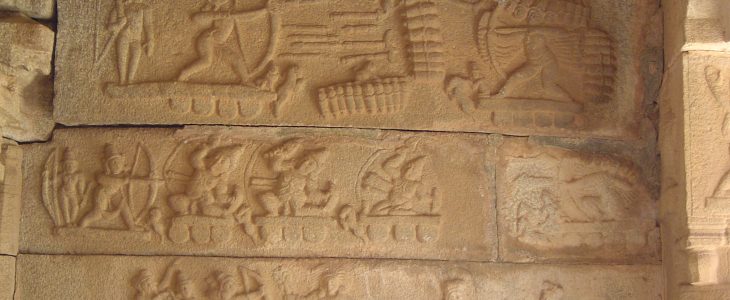 Sitting in an internet café on such a hot day is a relief – trust me. A lot happened since my last post. From Goa I went to Hampi by bus and surprisingly there were almost only foreigners on the bus. It was a nice change and I made some travel-buddies, because a lot of them just stayed in the same hostel as I did. That happens often during my travels, because everybody seems to use the Lonely Planet.
Hampi – a Landscape left from Ice Age
Hampi is a marvelous place in the state Karnataka and I am glad I decided to go there. The landscape around it looks a bit weird, because there are so many round rocks which appear to be left behind from some ice age. I am not a geologist so I cannot tell exactly. Nevertheless, I asked myself the whole time, how these rocks got there. Apart from its history, the city is known as a boulder paradise and many people from around the world go there because of that. However, I was not there because of the weird rocks. Hampi, then known as Vijayanagara, was once the large and beautiful capital of the Hindu-Empire. It is said, that up to 350.000 people lived there. Today there are only 3.000 left of them.
An impressive Archaeological Site
Over the centuries there were many wars with the Muslim sultanates and Hampi lost most of them. This is why a lot of the outstanding temples are ruins nowadays. Still very nice and interesting ruins though. Several of them have beautiful stone sculptures attached to them. I was absolutely fascinated when I explored these ruins. The area is huge and one can easily spend two to three days exploring the ruins nearby. However, not all buildings are in ruins today. There is a huge temple at the entrance to the city. This temple was not destroyed and is very beautiful. I heard it was once the largest temple in southern India.
A Lock called HITLER
Hampi was the first place during my trip where I actually had some problems with insects. At first, I thought I got bitten by some ordinary mosquitos, but the bites became bigger and bigger and were all over my legs. The owner of the hostel where I stayed said, told me, that these bites come from little spiders. He also said, it is nothing to worry about. But I was worried, because it looked really bad. Anyway, after a day of antibiotics the bites were much better and by now they are totally gone. Another very strange thing happened to me in Hampi. The lock for my hostel room was made by a company called HITLER. For a German, that is really weird. Probably the guy from the hostel wanted to tell me something.
Eating from Banana Leafs
On my last day I went with some other travelers to a simple and very natural restaurant close to the city above a river bank. I did not catch the name of the restaurant, which is a pity. The view was stunning. The food was brought on a banana leaf instead of a plate. The food itself and its appearance on that banana leaf were amazing. We spend some relaxing hours there. After this delicious lunch it was time to leave Hampi. I shared a little rickshaw with some other travelers. With all these backpacks the little rickshaw was completely packed. In some places it would have been called overloaded, but not in India. There is always a way to fit more luggage in or on top. We went to the nearby train station and I took a night train to Bangalore – my next destination.