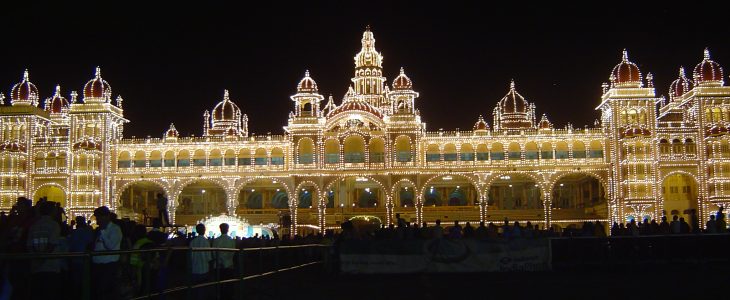 After Hampi I went by night train to Bangalore. I reached Bangalore early in the morning. I slept well on the train and was in a mood as good as one can be at 6 am in the morning. However, when I got off the train station and got the first impression of Bangalore, I was shocked. I have seen a lot of India, but Bangalore made me turn around instantly and buy another train ticket off to Mysore. Mysore is a much smaller city about 2 hours south west from Bangalore. I did not know it then, but it was a golden decision, because Mysore celebrated a huge and amazing festival that night.
Mysore – City of Silk and Palaces
First things first. Mysore is THE place of silk in India. One can find tailors almost everywhere. They sell amazing things made of silk. I am absolutely not into fashion, but I have to admit, that many clothes in these shop windows simply looked awesome. Nevertheless, I did not travel to Mysore for some shopping in fine tailor shops. Mysore is well-known for its palaces and I went there to see Mysore Palace within the old fort. The palace is breath-taking and I learnt it is one of India's biggest tourist attractions after the Taj Mahal. Considering this, it was relatively quick and cheap to get in. Unfortunately, no cameras were allowed inside. I was amazed by the inside of the palace. If you ever visit Mysore, go for a tour in the Mysore Palace!
Mysore Dasara – A beautiful and illuminated Festival
In the afternoon, I saw how lucky I was in deciding of going straight to Mysore instead of spending some time in Bangalore. The day I arrived in Mysore two big festivals took place and the center of Mysore was completely illuminated at night. Interestingly, there was one Hindu festival, Mysore Dasara, and one Muslim festival at the same time. Unfortunately, I did not catch the name of the Muslim festival. I also did not see much Muslim influence. The lit up city was already spectacular, but the illuminated Mysore Palace surpassed that easily. The palace looked absolutely stunning!!! I loved it and spend a long time there trying to take some good pictures. The vibe of the entire city that night was superb and I went back to my hostel only very early in the morning.
Second Impression of Bangalore
I really liked the city of Mysore, but after three days I had to get back to Bangalore. I wanted to meet with a friend and decided to give the city a second chance. In the end, Bangalore is one of India's biggest IT hubs. The second impression was not that much better. Bangalore is loud, dirty and chaotic. That is what my friend told me upfront and he was absolutely right about it. There is no need to stay there longer than necessary, but as I met my friend there I stayed for two days. What I liked about Bangalore was, that the investments of the Indian government in infrastructure were absolutely tangible. I believe India will benefit from investments like the huge metro system in Bangalore a lot in the future.
Enjoying South Indian Food
Last stop on my route through South India was Chennai. Chennai is another booming IT hub in South India. I somehow liked Chennai. I cannot really explain why, but I liked the two days I spent there. I went to Chennai beach which is far cleaner than Mumbai's Chowpatty beach and I even went into the gulf of Bengal. As I had a lot of time, but was not really in the mood to do more sightseeing, I went shopping and spent some money in Chennai. I also got a good impression of South Indian food and particularly liked the huge Dosas. I had as many as possible during two days. In different forms and with different dips. However, North Indian food, especially Punjabi food remains my absolute favorite.