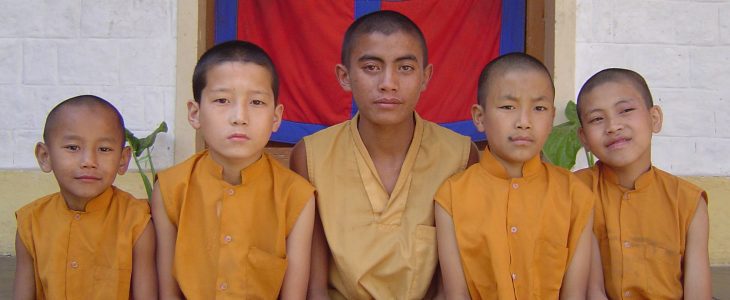 My India trip has reached the second half. I am in McLeod Ganj, near Dharamsala again right now. This is the place where the Dalai Lama and the Tibetan government live in exile. Unlike last time, I did not meet the Dalai Lama this time. Nevertheless, I absolutely love this peaceful place. I took a Tibetan massage course in which I learned a lot about the human physiology. Apart from that I explored some very beautiful hiking paths. I also spent some time watching Buddhist monks debating. The last two weeks have been truly amazing. A lot has happened, but let us start where I left off last time.
A snoring Neighbor in the Airplane
After Chennai in South India, I went by plane to Delhi. I thought the only problem was that Jet Airways had changed the time of my flight from the morning to the evening. However, the real trouble actually started on the plane where the guy next to me snored and drooled like hell! After exhausting ten minutes next to him I decided to wake him up. He was not angry at all. Instead, he apologized, fell asleep again and started to snore and drool again. At that point I decided to move to another seat – far away from this guy. Several other people did the same, too.
Miraculously escaping a terrible Car Accident
Upon arrival at night in Delhi I went by taxi from the airport to the city center. There we almost had an accident. I have to admit: even though taxis in India are really old, their breaks still work perfectly. A Jeep ignored a red traffic light and I already saw us crashing into it. Miraculously, the taxi driver avoided a terrible accident. Relieved I arrived at the hostel, where I met my friend Kush. He was kind of stopping over in Delhi on his way to Singapore. Over some beers we talked about old Chandigarh days. It was really good. The following day I met my other friend Diana, which I had not met in almost four years. We had a long chat at a coffee shop like we used to have in former times. I loved it.
Back in Chandigarh
Unlike many people, I really like Delhi. There is a lot to see, it is definitely less crowded than Mumbai and there are many exciting shopping possibilities. Trust me, shopping in Delhi is worth it! From Delhi I went to Chandigarh, the city I lived four years ago. I stayed with my friend Anuj and his family. It was lovely and I will definitely go back to visit them again! Chandigarh is still an adorable city by Indian standards. It is clean, very green, not too hot and somehow organized. A good place to live that has not changed much in four years. I went to my old house and the place I used to work again. It brought back some very nice memories.
Taking a Tibetan Massage Course
Now, I am in McLeod Ganj again. I am here for two weeks now and absolutely love this very peaceful and relaxed place. The Tibetan atmosphere enriches this place so much. It is a nice break from the chaos in the rest of India. And it is slightly colder, too. Here, I already did a five-day Tibetan massage course and it was great. I learned a lot about massage in general, specifics of Tibetan massage and a lot about the physiology of the human body. I do not intend to make a living of it, but it was a wonderful experience. On top, I got to know very interesting and very nice people in the course. Meeting fellow travelers is exciting, because many have very interesting stories to tell. If I collected and published all these stories, they could become as famous as the fairy tales by the brothers Grimm.
Volunteering in a Tibetan Monastery
The reason why I returned to McLeod Ganj was not solely a Tibetan massage course or the Dalai Lama, which I had net in the same place four years ago. Instead, I came to build a website for the Tashi Choeling monastery. They want to raise money and need a website for that. I know a lot about building websites. Therefore, I decided to volunteer. India has given me so much and has enriched my life tremendously. Hence, I knew the least I can do is give a tiny bit back. I spent some time in the monastery and learned about the daily routine. Getting insights into the life within a Tibetan monastery was very interesting. Building this website was perhaps more valuable for me than for them.
Hiking around McLeod Ganj
McLeod Ganj is in the lower Himalaya, but it is already possible to do some very nice hiking treks. Last Saturday I went with a French guy on a very relaxed trek. I saw some places around McLeod Ganj, which I had not seen before. We even visited a very small lake. Sunday, I went with a French girl up to Triund. I had done this trek four years ago. However, at the time the weather was not good and at Triund it was so cloudy, that we hardly saw anything. This time it was much better. The weather was perfect. Warm, but not hot it was a very pleasant walk. I also remembered the way, which was definitely helpful in the beginning. The mountains around McLeod Ganj are very beautiful.
The Women run the Business
The advantage of staying in one place for some time is, that one gets to know the people living there much better. I realized that in McLeod Ganj, unlike in the rest of India, women run the businesses. This was very surprising to me. One thing I really like in India is that the people are much smaller than in Europe. This means I am not short at all. It also means, that sometimes the beds are too small – even for me. What I absolutely dislike in India are beggars. However, not because these poor people are asking for money. Instead, the fact that there are complete mafia structures forcing people to beg and even mutilate people and children to look worse is just disgusting! I can only appeal to everybody not to give money to beggars, because this would only encourage this kind of mafia!
Reflecting upon what comes next
Over the last six weeks I had a lot of time to reflect upon the last period of my studies. That was very important for myself, because I really had time to realize the chapter "studies" is closed and another will open soon. It also helped me figuring out what I want for this next chapter of my life. I think a journey through India always enriches one's mind in an unexpected way. It is hard to describe, one has to experience it. However, before I go back home, I still have two more weeks in India and I still have some plans, like taking a Tibetan cooking class.