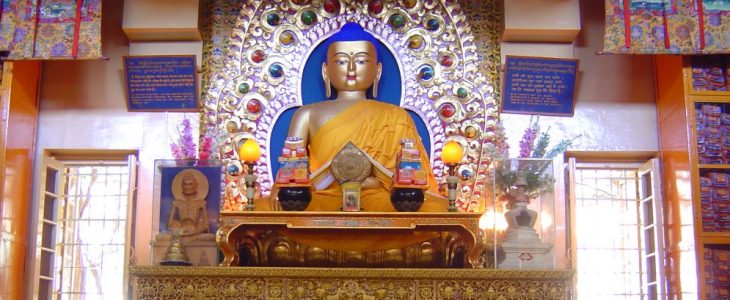 The last days in India I spent in McLeod Ganj and Chandigarh. I took a Tibetan cooking class and finished the website for the Tashi Choeling monastery. They even gave me a little farewell present. I still have not figured out entirely what it is, but nevertheless I was really happy about it! In Chandigarh I stayed with my friend Anuj again and celebrated Diwali with him and his family. That was awesome. The flight back home on my birthday was funny in a way, too.
Taking a Tibetan Cooking Class
During the first week in McLeod Ganj I took a Tibetan massage course every evening. There I learned a lot about the human body. The second week I took a Tibetan cooking class. It was very interesting. The first two out of three days, I was the only one in the class. That was really good, because I learned it much better than with twenty other students in the room. We made different types of Momos (Tibetan type of dumpling), breads and soups. The course was not only interesting because of the cooking itself, but also because of the conversations I had with the chef.
Stories from a Tibetan Refugee
The chef told me a lot about Tibet and how he flew from there over the Himalaya via Nepal to India one winter. To hear stories from refugees or former prisoners is very moving and one gets the impression that the Chinese authorities are similar to the Nazi regime in Germany in the past. One would assume that humankind learns from the mistakes of the past. However, it seems like we still have not reached that point, yet! During my time in the mountains, I had some time to watch the eagles carefully. They are real kings. Opposed to other birds they hardly ever move their wings and still they manage to ascend hundreds of feet in a few seconds. They look majestic and it is awesome to watch these beautiful creatures for a while.
Change in Bus Plan for Himachal Pradesh
The bus journey from the mountains to Chandigarh was a perfect example for travelling in India and for India itself. One always has to expect the unexpected and whatever could go wrong will go wrong eventually. Whilst I was watching the eagles the bus plan for Himachal Pradesh changed. Unfortunately, nobody informed the bus station in McLeod Ganj. Thus, I started from McLeod Ganj to Dharamsala about an hour earlier than I originally had to. Nonetheless, the bus from Dharamsala to Chandigarh had already left two hours ago when I reached the bus station. Asking for other possibilities someone told me that there is a bus to some other city and from there a bus heading for Chandigarh will be leaving at 3pm. It sounded good and I thus, I tried it.
Another interesting Bus Trip
Without any trouble I made it to the city (I still do not know the name of) and at 2.45pm I was in the ticket queue for the bus to Chandigarh. At 3.15pm I was still in the queue and the guy who was supposedly responsible for selling the tickets did not move in his chair at all. Knowing India helped me to stay calm even as rumors spread that our bus was involved in a bad accident. At 4pm our bus finally left for Chandigarh. The bus made interesting noises throughout the journey. After we successfully finished half of the distance, we reached another city and stopped for an hour. Nobody understood why, but after that we had to change bus. Fine I thought, being only 100km from Chandigarh, we should be there soon. I was almost right about that.
Watching my Movie in the Cinema
Ten minutes away from the bus station in Chandigarh the bus had a puncture and we stopped again for 30 minutes. I do not know if this bus ever reached its final destination Delhi, which is still six hours from Chandigarh. Bluntly – I did not care anymore that night. In Chandigarh I stayed again with my good friend Anuj. The day after that exciting bus experience we went to the cinema and watched my movie "Karzzzz" and guess what – I have recognized myself in two different scenes. Very shortly, but I reckon this is how my international career as a movie star starts.
Celebrating Diwali with an Indian Family
Two days before I went home, I was extremely pleased to experience Diwali within an Indian family. It was a great experience. Diwali, the festival of lights, is the most important Indian festival. Anuj's mother had invited me to spend Diwali with them. She decorated the house inside and outside beautifully. The entire house was covered in lights and so were most houses in the neighborhood. Many people burned firecrackers in the streets like I know it from New Year's Eve. After a small celebration in the house, we went to a Gurudwara (a temple) to praise the gods. I was positively surprised, that I was allowed inside even though I am not a Hindu.
My 28.5 hours Birthday 
The flight back to Germany was really nice, too. As it was my birthday, I tried to convince the check-in staff to upgrade me to business or first class for free. Unfortunately, they did not agree, but at least I got a good seat with a lot of leg space. After being on the plane for a while, I got a surprise by Lufthansa. The crew gave me a present, a rose, a card and free champagne on the entire flight. I was delighted, although I felt a little tipsy after the third champagne (perhaps the fourth?). Apart from that, 28.5 hours birthday – who ever had that. This was the end of this India trip. I loved coming back to my second home and enjoyed these two months very much.