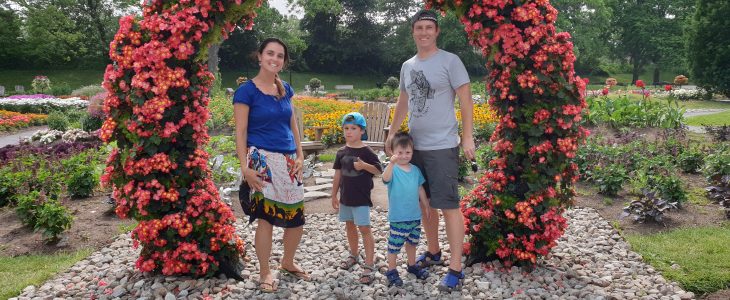 The last three weeks we spent in and around Montreal. The city that held the Olympic Games in 1976 is located in the state of Quebec directly at the huge St. Lawrence River. Quebec State is the French part of Canada and hence the long forgotten French which I learned in school came in very useful. Indeed, I remembered much more than I ever imagined. We explored a lot of Montreal: amongst it the Olympic Park, Botanical Garden, Mount Royal and more. My highlight certainly was visiting Cirque du Soleil! Nevertheless, I personally did not like Montreal very much. I preferred the area around Quebec City and especially Quebec Old Town much more. Unfortunately, we have only been in this area for a couple of days. However, we spent these days in a gorgeous and quiet cottage overlooking the St. Lawrence River.
The worst Airbnb so far
From Toronto we went by train to Montreal. It is a 5h train ride and it was much better than sitting 5h in a car or an airplane. In fact, it felt much quicker, because it was very comfortable. Upon arrival in Montreal we drove straight to our Airbnb. We had booked a little late and therefore did not have much choice anymore. Hence, our expectations were not high. Nonetheless, the apartment shocked us. It was directly next to a very busy highway. Imagine the noise! Furthermore the apartment was in bad shape and we needed to clean it first. So far on our trip it was the worst Airbnb we had and even topped the one in Santiago de Chile by a landslide. As we had already paid a lot for it, we decided to stay hoping to make the best out of it.
Cirque du Soleil in Montreal
During the first days we explored Montreal Old Town and the old harbor area. It is a nice area, but nothing extraordinary. Annoyingly, one of the most beautiful streets was a huge construction site. Like in Toronto, there were many construction sites in the center of Montreal. We visited the Notre-Dame Cathedral which is a beautiful and large cathedral in the center of Montreal. Unfortunately, due to an upcoming concert, there was no way to get in without waiting in an immense waiting line. We walked down to the old harbor area and spotted the huge Cirque du Soleil tent. We still got some tickets for the afternoon show of "Alegria – In a new Light". Carolina and I had seen the original "Alegria" show several years back. This time it was the kids' first ever Cirque du Soleil show and all of us loved it.
Everything closed down in the Olympic Park
Some days later we visited the Olympic Park. In 1976, the Olympics took place in Montreal and I knew that Montreal got inspired by Munich. Precisely, how Munich transformed its Olympic Park from 1972 into a popular and lasting highlight of the city. The Montreal Olympic Park houses several tourist attractions, such as the Olympic Stadium, the inclined Olympic Tower, a Planetarium, an insectarium and the Biodome. I was particularly keen on going up the tower and visiting the Biodome. However, both were closed for maintenance (like the insectarium), which was a major disappointment. The entire Olympic Park is much more made of concrete and hardly green at all. Additionally, there were large construction sites in the park. Fortunately, the Botanical Garden is very close and so we went there after the disappointing Olympic Park.
Beautiful Botanical Garden
The Botanical Garden in Montreal is the third largest in the world. Only the ones in London and Berlin are even larger. The Botanical Garden is so huge, one could easily spent a whole day or even two in it. We spent several hours there, but still managed to see only half of it. Our favorite part was the Chinese Garden, which is a beautiful and interesting oasis. Typical Chinese houses, a small bridge and even a stunning little waterfall made this place absolutely adorable. The next day we went up Mount Royal which, if I am not mistaken, gave the city its name. It is a large and pretty park with a viewpoint that offers nice panoramic views on Montreal. It also seems to be a place where the people from Montreal exercise.
A true bi-lingual City
As Montreal is in Quebec, French is the official language. However, in reality Montreal is a true bi-lingual city. In most places French and English are spoken almost equally. Only a few times I really needed to remember my school French. Surprisingly, I remembered a lot when reading signs. I was even able to speak some, but when people responded at normal speed it was over soon. As mentioned before, I did not really like Montreal as a city. It might be unfair, because our apartment did not let us sleep well and we were therefore never really relaxed and able to enjoy. However, many parts of the city are run-down and dirty. I was disappointed, because that was not what I heard of the city. Out of all the places we visited on our Family World Trip so far, I liked Montreal the least.
Our Cottage in a Forest northeast of Quebec
After one week in Montreal, I was so stressed out with the noise of the apartment and the city itself, I needed a break urgently. Therefore, we did what most Canadians do and spent some nights in a cottage outside of the city. We went to a lovely cottage half an hour north of Quebec City. Quebec City is about 3h northeast of Montreal. The drive was ok and we arrived at the cottage without major problems. It was a marvelous place, very quiet in a little forest overlooking the immense St. Lawrence River. We slept in a beautiful timber house. We even had a barbeque right in front of our cottage. I loved that place and could have stayed much longer. I slept so well – what a change to Montreal!
Enjoying Nature
The first day in the Canadian nature we spent hiking. Well, as much hiking as one can do with a three year old and a five year old toddler. It was a lot up and down and partially the path was very muddy. The way down to the river both, Leandro and Diego did very well. Only on the way back up Diego became very hungry, tired and hence cranky. Leandro was doing well during the ascent and continued his never-ending stories of heroes and villains. He has such a huge imagination, it is incredible. I should probably write down his stories and publish some of them. We spent a good part of the afternoon with a family barbeque in front of our cottage. It was awesome.
Extremely old Stone Blocks
The next day we visited the St. Anne Canyon. This park was very close to our cottage. It is a beautiful little park with trails along both sides of a canyon and a large waterfall in the center. Sometimes one can even see rainbows there. Unfortunately, we were not there at the right time or day. We only saw very small rainbows that hardly appear on the pictures. The park is very well maintained and informative. Some of the rocks are 1.2 billion years old, which is impressive considering, that none of today's alpine mountain ranges existed at that time. Even the Himalaya mountain range is only about 200 million years old. The park also offered some interesting kids stories on how giants stole the colors of the rainbow and how they were brought back to this area. A great idea to keep kids interested along the way.
Gorgeous Quebec Old Town
On the way back to Montreal we stopped in Quebec City to visit is picturesque Old Town. Quebec Old Town is stunningly beautiful. The famous Chateau Frontenac towers above everything and can be seen from every corner of the Old Town. Outside the city walls there are a few lovely narrow streets with gorgeous architecture. They are also very colorful. From there we took the small funicular to the upper part of the Old Town where we walked along the promenade facing St. Lawrence River. For several hours we strolled through Quebec Old Town. In between we had lunch in a typical Quebecois restaurant. If it were not for our 3h drive back to Montreal, we would have stayed much longer in this gorgeous place. 
Free Public Pools in Montreal
The last days in Montreal were not particularly exciting. It was very hot. Therefore, we went to a public pool and we were positively surprised that there was no entrance fee at all. How great is that? We also visited St. Joseph's Oratory, which is a large religious complex. It claims to be the world's second largest domed building. Second only to the St. Peter's Basilica in Rome. After that it was once again time to pack up. This time we were finally able to donate some of our heavily used clothes and some toys to a donation center nearby. Next on the list is New York City, where we stay for about a week, before we head back to Europe.