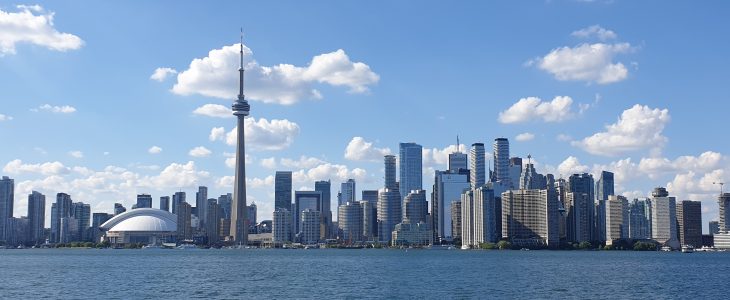 From Florida we travelled further north to the south of Canada. The first two weeks we stayed in Toronto, Canada's largest city. We arrived just in time for the Canadian summer, which can be quite hot. Fortunately, we had a nice Airbnb with air condition in a good location just next to a huge urban park and not too far from the city centre. It helped us exploring the highlights of Toronto, like the CN Tower, but also nearby tourist attractions like the Niagara Falls. Both of us also met several friends there. In summer, Toronto definitely is a vibrant and interesting city with much to do. I would like to see it again one day in winter.
A Castle Playground in the Park
The flight from Orlando to Toronto was short and absolutely smooth. Hence, we arrived in Toronto as relaxed as one can be after a flight with two toddlers. Due to Toronto's extensive rush hour, the Uber ride to our Airbnb took a while. We stayed just next to High Park, which is a beautiful and large urban park. We heard of an awesome playground with a castle in the middle of the park and obviously, we had to go there the day after we arrived. Although the kids loved that playground we only went there once. It was quite a long walk through the park and there were many dogs off leash (in an on leash area!). Two large barking dogs scared Diego extremely. He completely lost it and screamed like hell, but the owners did not care at all. It reminded me of my own dog "experiences" in India.
Looking Down from CN Tower
The next day we went to CN Tower to see Toronto from above. It was a beautiful day that offered gorgeous views. For several decades the CN Tower was the largest free standing building in the world. It is an impressive tower and gives Toronto's skyline a unique touch. Visiting observation decks has become one of our "things" during this family world trip. In Bangkok we went to Mahanakhon Skywalk, in Sydney to Tower Eye, in Auckland to Sky Tower and in Santiago de Chile to Costanera Center. All of them offered amazing views down on the city. The scariest for me was looking down the Mahanakhon Skywalk in Bangkok. The CN Tower also offers a skywalk, but it is inside and therefore much less scary. I cannot tell which one was my favourite, but if I had to skip one, it would be Sydney Tower Eye.
A Harbour Cruise on a Public Ferry
Back down we continued exploring at Toronto's harbour front. It is a nice walk with many interesting things to see for the kids, such as police or firefighter boats and even large sail ships that look a bit like pirate ships. At the harbour front we saw the Toronto Islands which we visited a couple of days later. We went there by public ferry. One thing I can only recommend to everybody is taking public ferries when crossing a harbour. It is like getting a harbour cruise for free. In Sydney we enjoyed the best views on Sydney Opera from the public ferry to Manly. In Toronto we had an amazing view on Toronto's skyline including the CN Tower from the public ferry to the Toronto Islands. It is usually more difficult to take good pictures on speed ferries. Hence, I prefer the slower ones.
Swimming in Lake Ontario
The Toronto Islands consist of three islands which are well connected. They face Toronto on one side and the open Lake Ontario on the other side. Upon arrival on the central island we slowly walked towards Lake Ontario. At the shore we rented a quadricycle and explored the islands as much as possible. The water level was very high and several streets were closed as they were under water. At one point we were cycling through water which was higher than our feet. That was on the way back from the Island Café that we cannot recommend at all. The waiter was very unfriendly. After returning our quadricycle we went to the beach. A few people went for a swim. The water was freezing cold and, thus, I was the only one of us going in for a swim in Lake Ontario.
Meeting many old Friends
Surprisingly, both of us somehow knew many people in Toronto. In the beginning of our stay I met an old friend with whom I went to school back in my home town. That was great, not only because she gave me my driver's license which my sister-in-law sent to her. It was great catching up after more than ten years. I also met two former colleagues from Munich Re. Funny, like my colleagues in Sydney, I only met them at their office after I left the company. Another day we met a joint friend who introduced us to each other and without whom Carolina and I most likely would have never met. The same evening Carolina a Canadian friend whom she got to know in Brazil many years ago. On Canada day we met one of Carolina's friend and former colleague.
Movie Set Location Toronto
Toronto is known as a great location for shooting TV series and movies. The financial district looks a bit similar to New York. One of our favourite TV shows, Suits, is shot almost entirely in Toronto. I checked out which locations might be easily accessible and we ended up at Bay Adelaide Centre, where a lot of the outside action happens. Unfortunately for us, the final season is already completed. Hence, we did not meet any of the actors, but can watch it soon. Another famous movie location is Casa Loma, Toronto's city castle. It is a gorgeous 19th century complex, which amongst many others, appears in most X-Men movies. I was particularly impressed by the bathroom, which was the most modern at the time it was built. It already offered a hot shower system, which I have not seen in any castle so far.
Using Toronto's City Pass
Toronto's biggest tourist attractions can be visited by using the City Pass. It includes entrance to CN Tower, Casa Loma, Royal Ontario Museum, Ripley's Aquarium of Canada and Natural Science Centre or the Zoo. We did not make it to the two latter, but saw Ripley's Aquarium of Canada and the Royal Ontario Museum at the same day. The Aquarium is nice, but nothing extraordinary. There are sharks and rays and the aquarium is maintained very well. However, having seen the huge aquarium in Sydney it is difficult not to compare. The Royal Ontario Museum is interesting. There is a huge Gemstone collection and very good explanations how these and many other minerals are used in our daily life. Especially the part on batteries for electric cars is interesting and important, because too many people still believe in the zero emissions fairy tale.
Sunday Market at Kensington Market
Our second Sunday in Toronto we went to Kensington Market. It is the Bohemian part of Toronto. Without knowing it, we chose the perfect day. Every last Sunday streets at Kensington Market are closed for cars and motorbikes and a huge street market opens up. We arrived a little early when people were still putting up the stalls, but we immediately felt very good. Initially, we just wanted to have a look, but we ended up spending the entire Sunday strolling around, eating street food, watching artists perform and having some ice cream on a sunny day. In the afternoon we discovered a very nice playground right in the middle of Kensington Market. As the kids were playing we smelled once again that Marihuana is legal in Canada. One can literally smell it almost everywhere and every day – especially in parks.
Canada Day in Toronto
Another event we experienced in Toronto without planning it was Canada Day. It is funny how the whole world knows about the US Independence Day on July 4th, but we did not know about Canada Day on July 1st before arriving in Toronto. I only figured it out, because no rental car company was open that day. It was a bit tricky to figure out on the internet where the action happened. It seemed like there were many different places. We decided to go back to harbour front, which was a very good decision. It was a very relaxed atmosphere with some music from time to time and many people wearing red shirts or little Canadian flags. The celebration itself was much less spectacular than we thought, but we also missed the fireworks at night.  
The Niagara Falls
Just two days before we left Toronto, we rented a car and drove to the Niagara Falls. Getting there was very easy, because the highway ends almost directly at the falls. Visiting the Niagara Falls is also very easy. Even with our stroller we had no problem at all to get around. As expected there were many tourists, but much less than we feared. Without major problems we saw the impressive Horseshoe, American and Bridal Falls, which together make up for the Niagara Falls. The Horseshoe Falls are by far the largest and best known. The view and especially the sound of the crashing water are breath-taking. We took many pictures of the Niagara Falls when slowly walking along the Niagara River. I heard people saying the Niagara Falls are less impressive then the Iguazu Falls, but I do not agree on that. Both waterfalls are absolutely jaw-dropping!
Returning via Niagara-on-the-Lake
Like the Iguazu Falls, the Niagara Falls divide two countries. Unfortunately, we forgot our passports at the Airbnb in Toronto and could therefore not visit the U.S. side. I am sure it would have been nice, too. However, we anyways wanted to visit the historic town of Niagara-on-the-Lake on our way back and doing everything in one day would have been very tense for us. The road to Niagara-on-the-Lake along the Niagara River is beautiful. The historic city centre directly at Lake Ontario is charming. The old 19th century buildings are beautiful and mostly very well maintained. Still, I would not call it a must-see although the town is a nice place to visit. It was a lot of excitement in and around Toronto packed into less than two weeks. Now we move on the Montreal – the French part of Canada.