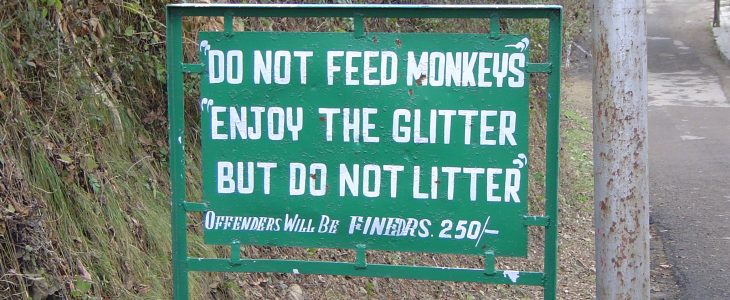 Since the big trip to Goa, I have not been on large weekend trips. Last Sunday a small group of us drove by bus to Kasauli. It is a very quiet place about two hours from Chandigarh. The town is not exciting, but very relaxed. As I have seen many of the big tourist spots that are within a weekend's range, I start to like these small places. I went there with Rajes, Libby and Stephan, another German guy, in a very crowded bus. Whereas in Chandigarh it gets warmer and warmer, Kasauli was still cool. There were many monkeys again, and, surprisingly, the place was very clean. I have noticed, that the closer one gets to the mountains, the cleaner India is.
Pinjore Gardens – A beautiful Place near Chandigarh
Another one of these really nice and small places nearby Chandigarh is Pinjore. Especially the Pinjore Gardens are a superb place to spend some relaxing hours. I have been there with Geerteke, Alex, Carla, Adriana and Nobu before Christmas. In all the rush before Christmas, I did not even find the time to mention it in a post. This is a shame, because the Pinjore Gardens are lovely. They are beautifully arranged, not crowded and absolutely clean. We enjoyed an amazing sunset there before we headed back to Chandigarh.
Fulfilling a Promise I gave to Myself
About three weeks ago I fulfilled a promise I had given to myself during the early days of my stay in India. Maybe some of you recall how much I liked Shimla when I was there the first time last year. I immediately knew, I want to go back to this place. So about three weeks ago a group of trainees decided to go there and I joined them. Together with Philip, Adriana, Hennes, Nobu, Rajes and Stephan I once again took the toy train from Kalka to Shimla. This time the weather was better than last October. Thus, the scenery along the seven-hour train ride up the mountains looked even more spectacular.
Clear View to the majestic Himalaya
Shimla itself, obviously, had not changed. It was still the same lovely hill station it was four months ago. However, this time I saw some other places. Because the weather was good and the sky was clear, we were actually able to see the impressive mountains of the higher Himalaya. The pictures do not do justice at all. If one likes mountains, like I do, the view of these majestic mountains is overwhelming. These views were definitely my highlight during the second visit in Shimla. As some might have expected, we stayed in the YMCA again. We also went to the Jakhoo Temple again (Monkey Temple). This time we paid the Christian church in Shimla a visit, too.
Teaching German in India
Back in Chandigarh, my weeks here are counting down. I have started to teach German at Chitkara University who partners with Inlingua. Believe it or not, but I have two students who work for Bosch and want to go to Germany. Hence, they are learning German. Both are doing really good and I am convinced, they will pass the exam after 3 months. Working for Maven during the day and three times a week for Chitkara at night, makes me feel like time is flying. Therefore, only this weekend I realized that winter is over and meanwhile we have very pleasant temperatures again.
My Friends are going back
More and more trainees I lived and travelled with are returning home. Next week, my best buddy Philip is going back to Germany. With him I was on various trips. Especially in the beginning we shared a room on our trips. I definitely have to visit him in Berlin. Apart from that Nobu, my roommate, will soon go home to Japan. We have lived only the two of us for more than a month. Only lately two new Brazilians moved into our flat. Nobu and I share a very special relationship. He is like a brother to me. I really like him and I will definitely miss him, but at the same time we drive each other crazy sometimes.
The Tap stops automatically – in Japan
There are two short stories to illustrate that. One random night I woke up by a weird sound very close to my room. You have to know, one of the bathrooms is just next to my bedroom. That night the weird sound would not stop and I soon realized it was water that was running. I got up and checked. The tap was still open and the water ran at full speed. The next day I asked Nobu about it. He was sincerely confused and asked me, if it would not stop automatically after some time. Well, in Japan it would most likely.
Two Doors are one too many
The other time was when I came back from Kasauli. Nobu and a friend were about to go the cinema. Friendly as they are, they asked me to join. I was happy to join, because by now I really got into Indian movies. Bollywood got me, but that is another story. The two wanted to leave quickly so I just wanted to leave my bag inside. When I reached the apartment, I noticed that the main door was locked. However, we have another door just next to it. This one goes straight into my bedroom. It was not only unlocked, but completely open. With my money, valuables and keys in there, I was absolutely not amused, that Nobu left the door unlocked when leaving the apartment.